Sidebar: The Quake on Montlake
We shook and we rattled, but the University of Washington held up pretty well during the 6.8 Nisqually earthquake that hit the Puget Sound region Feb. 28. The UW never closed, no one was injured, and most damage was cosmetic rather than structural.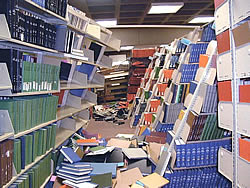 ---

The earthquake sent books from the engineering library flying. Overall, the UW suffered more than $10 million in damage in the quake. Photo by Mary Levin.

---
The UW had to close several libraries temporarily due to falling books and ceiling tiles. Also, Schmitz Hall and the T-Wing of the Health Sciences Center were closed for several days while workers removed asbestos particles that became airborne when ceiling tiles fell along with asbestos pipe insulation.
Structural damage was limited to the Conibear Shellhouse, where bricks moved at the junction of two wings; Suzzallo Library, which suffered damage at concrete slab joints; and the Brooklyn Building, where a chimney fell. Inspectors checked the shellhouse, built on landfill, and declared it safe to occupy.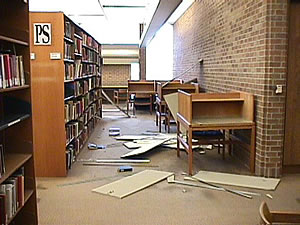 ---

Furniture and books show disarray in the Odegaard Undergraduate Library. Photo by Mary Levin.

---
Even a month after the quake hit, estimates vary for the cost of repairs. The UW sent a request to the Federal Emergency Management Agency (FEMA) for $28 million, but that includes costs to mitigate impacts of future earthquakes. "I would say the actual damage is $10 million to $15 million," says Jeraldine McCray, associate vice president for facilities services.
When the quake struck, workers had already torn apart the two older wings of Suzzallo Library for a $42.6 million seismic retrofit. While the project won't be done until next summer, the work already completed made a big difference in how well the building fared. On its exterior, only four finial caps at the top of the historic building fell due to the quake.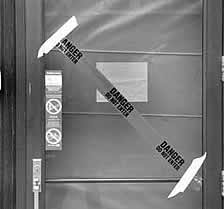 ---

After the earthquake, part of UW Medical Center was closed to clean up asbestos that had been disturbed. Photo by Gavin Sisk.

---
While books in the 1962 Suzzallo wing fell from the stacks, books in the adjacent Allen Library stayed in place, thanks to quake-resistant stacks installed when it opened in 1990.
"The nine historic buildings that we retrofitted over the last decade showed no apparent damage, not even a crack," adds McCray.
While the good news is that the UW held up remarkably well, the bad news is that FEMA will only cover 75 percent of the repair costs. The UW will have to cover from $2 million to $4 million in repairs, plus 25 percent of any mitigation work that FEMA funds. "We're going to have to defer other projects we planned to tackle this year," McCray says. "There's going to be a lot of decision-making going on for the next three months."
—Columns Editor Tom Griffin
Go To: Page 1 | Page 2 | Page 3 | Page 4 | Page 5