Part Two: Map is a Geological Blueprint for Seattle
With this project, Booth and Troost will draw the geologic blueprint for the city, giving government officials, consultants and private citizens the plans for preparing to deal with earthquakes, landslides and other potential geologic hazards. The blueprint is desperately needed. The most recent geologic map of Seattle, known as the Waldron map, was produced in 1962, long before geologists understood plate tectonics or knew there was a fault line running through the heart of Seattle.
---

The original Waldron map of Seattle, ca. 1962, made obsolete by new information and geological understanding. Image courtesy Seattle Geologic Mapping Project.

---
In contrast to most geologists, who prefer to explore exotic locales, Booth and Troost have spent most of their careers studying and exploring the rocky history of the Puget Sound region. Troost was a geology consultant for 19 years before returning to the UW in 1998 for her master's and Ph.D. She was so obsessed with understanding this region that 20 years ago she started cramming her basement with material for a new Seattle geology map. "I got involved with this project because I love puzzles and I love helping people," says Troost.
Booth, who received his Ph.D. from the UW in 1984, worked for a decade on geologic hazard permits and hydrology issues for King County before teaming with Troost, and is an expert on glacial deposits in Puget Sound. His reason for joining this project centers, in part, on poet William Blake's great line, "To see a World in a Grain of Sand." "With the right regional context, you can learn about the bigger picture and generate useful information that makes a difference to people," adds Booth.
Geologic maps combine atlases and X-rays, showing the surface geology and topography, as well as the subsurface rocks and structures. They look like paint-by-number paintings with distinct blocks of color representing individual rock layers and lines indicating faults, folds and other geologic structures. Once completed in 2004, "unless we get more earthquakes," quips Troost, the new Seattle geologic map will consist of four 1:12,000 scale maps, providing three times more detail than the 1962 Waldron map.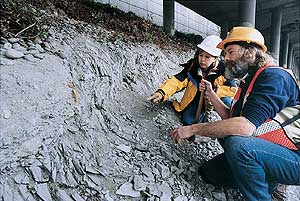 ---

UW geologists Kathy Troost and Derek Booth inspect a series of folded and faulted beds under southbound I-5. Photo by Mary Levin.

---
Making one of these maps in an urban environment is not a simple process. Even in the best geological situations, like the Grand Canyon, where one can see more than two billion years of Earth's history, erosion constantly changes the story line. No matter where you look, more pages of the book are missing than are present. But in an urban landscape, geologists worry less about erosion and face a more efficient eraser of information: concrete.
Because of this, Booth and Troost have had to be patient, creative and persistent to find the smattering of spots in Seattle where they can put their hands and hammers on solid rock. During their explorations in West Seattle, they have bushwhacked through briars, waited several months for the year's lowest tide to reveal rock, scrambled under bridges and overpasses, and ventured into many backyards in search of every outcrop, anomalous surface and landslide they could find.
"One of the pleasant surprises of this project has been how interested the public is in the geology under their own houses. Everyone has been friendly, sometimes almost too much so, slowing us down and telling us anecdotes about their rocks," says Troost.
Go To: Page 1 | Page 2 | Page 3 | Page 4 | Page 5