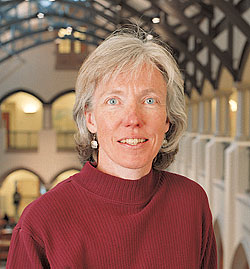 MARY PAT WENDEROTH
Distinguished Teaching Award
To Mary Pat Wenderoth, teaching doesn't mean disseminating information. A book can do that. And it isn't telling students what they need to know. That's what videos are for. Wenderoth, a senior lecturer in the Department of Zoology and the Biology Program, believes teaching means helping students learn to think like scientists.
Wenderoth has been teaching since 1979, when she took her first post as an instructor in health education at Central Michigan State University. She has a doctoral degree in physiology from Rush Medical College, Chicago, and did her post-doctorate in the biochemistry department at the UW.
She always enjoyed teaching, but it wasn't until 1990, when she stepped in at the UW as a sabbatical replacement, that she knew teaching was her calling. Wenderoth later met Harold Modell, a professor at Bastyr University in Seattle, who became her teaching mentor. He opened her eyes to a concept called "helping the learner learn." This means creating an environment where the student has the opportunity to grapple with and build biological concepts and where the student feels safe to ask questions or have a wrong answer.
It boils down to an "ask, don't tell" strategy. Wenderoth poses questions and then says, "Talk to your neighbor." She explains, "This method encourages them to talk out their ideas with one another. They can see the value of their peers as learning colleagues. Scientists are always kicking their ideas around, aren't they?"
Even in large lecture classes, Wenderoth makes a point of learning each student's name and calling on each of them by name in class. "I grew up in a military family and we were always moving. But there was one administrator who knew my name on the first day I walked into my new high school and that made me feel included," she says.
Her colleagues are astonished at the energy she brings to the classroom. "Despite the fact that her courses tend to be large lecture/lab courses, she is constantly developing new materials. When asked to teach Biology 100 for non-majors, rather than take on an existing curriculum, she was excited to prepare a course that would be more relevant," says Linda Martin-Morris, a fellow biology program lecturer.
Matt Alexander, a fifth-year senior, says Wenderoth's lectures are of another order entirely. "Rather than demand that students regurgitate useless numbers and equations, she empowers students by teaching them how to learn complex scientific material," says Alexander.
Helping students learn to think like scientists means students have to work hard in Wenderoth's classes. "I'm not a pushover," she says. "If you can pass my class, you know you're really good." —Julie Garner