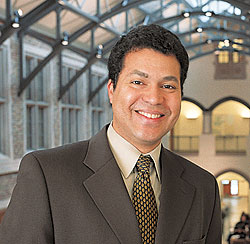 JOSE RIOS
Distinguished Teaching Award
JosŤ Rios is famous for getting adult students to do all kinds of crazy stuff, like shooting rockets made from film canisters powered by antacid tablets 20 feet into the air, or building 12-foot-high towers from construction paper to complete a lesson that began with a Godzilla movie.
"But we always learn something. By the end, they get it," says Rios.
To Rios, an assistant professor of education at the University of Washington, Tacoma, teaching comes down to engaging students.
"I think whether they're in first grade or they're graduate students, they all want the same thing. They want to have a good time in class," he says. "Teaching is supposed to be fun. Learning is supposed to be fun. Sometimes I think we forget that."
From his first experience at age 20, teaching acting to tough inner-city kids in Ohio, Rios learned a lesson he carries with him to this day.
"I had been on stage, I could act my way out of anything, and could tell them about all these acting methods, stuff that was very important to me, and they asked: 'So what?' I was disarmed by these kids asking: 'Why should I care?'" he says.
That experience prompted Rios to develop classroom experiences not only based on content, but that are relevant to students and incorporated with multicultural teaching practices.
Rios teaches a variety of courses in UWT's K-8 Teacher Certification program and in the master's of education program. At the undergraduate level, he teaches science methods and at the graduate level, he analyzes and critiques four contemporary theories of learning: behaviorism, cognitive science, constructivism and social constructivism.
He holds a Ph.D. and M.S. in science education from the University of Wisconsin-Madison. He is the first UW Tacoma faculty member to earn a prestigious UW Presidential Faculty Development Fellowship and has led the UWT summer Intel Math and Science Institute for K-12 teachers since 1999.
Clearly, he is passionate about teaching. "Particularly at UWT, people are making tremendous sacrifices to be here. They are taking time away from kids and there's the financial sacrifice," he says. "I want to provide the most engaging, intellectually satisfying, rigorous course I can."
—Mike Wark, UW Tacoma