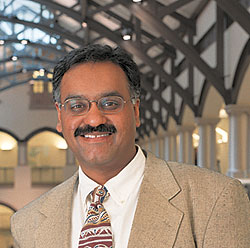 BIREN NAGDA
Distinguished Teaching Award
Biren "Ratnesh" Nagda reflects on his career as the "great detour!" He came to the United States from Nairobi, Kenya, with the intention of becoming a dentist. Then, because of his passion for helping people, he thought about medicine. Ultimately, the desire to help people resulted in a doctoral degree in both social work and psychology.
Now, the same impulse that led him to consider careers in health care is informing his teaching at the UW School of Social Work, where he is an assistant professor. Nagda sees his students as future social healers who work to create social justice in holistic ways. His passion for teaching focuses on creatively engaging students to see and understand oppression, privilege and injustices through their own experiences, to dialogue with others, and to become agents for social change.
Nagda's own personal experiences with the dynamics of race and ethnicity made him ever aware of these issues. "I grew up as an Indian person in Kenya. I was born right after the end of British colonial rule and the beginning of African self-determination under a democratically elected government. I realized that Indian people were caught in between, like a wedge," he says. "I now understand," he continues, "that I have a responsibility to transform such wedges into bridges, bridges for healing social divides."
Nagda's teaching involves a method called "intergroup dialogue" that he developed with colleagues at the University of Michigan. The dialogues involve facilitated face-to-face meetings of students from diverse backgrounds to explore commonalities and differences, discussing social issues and their impact on relationships among people. This teaching is part of a broader course called "Cultural Diversity and Social Justice" that focuses on theories, empirical knowledge and issues related to difference, oppression and privilege, and social change.
What Nagda has brought to the UW is no less than a profound change in the way students in the School of Social Work learn about cultural diversity and social justice. "No other social work program nationally has implemented such a distinctive, innovative and successful approach to the teaching of cultural diversity," says Nancy Hooyman, dean of the School of Social Work.
The dialogues, focusing on inter-racial and inter-ethnic issues, make some students uncomfortable. Some of their basic assumptions and values may be threatened. Other students see the dialogues as one of the only places in which they are able to constructively talk about difficult issues. Students consistently emphasize the transformational nature of his classes and Nagda's deep commitment. "Professor Nagda makes a profound investment. His humanity, warmth and genuine nature enable us to feel confident in expressing our thoughts and biases, and above all to challenge us in a very positive, enriching way," says a group of graduate students. —Julie Garner