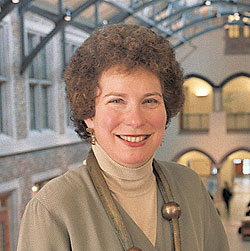 MARGARET LEVI
S. Sterling Munro Public Service Faculty Award
DEPARTMENT: Political Science and International Studies; 27 years at the UW.
COURSES TAUGHT: Introduction to Labor Studies, Government and the Economy, Special Topics in Political Economy.
ACHIEVEMENTS: Levi joined the political science faculty as assistant professor in 1974 and has worked her way to becoming the first woman full professor in the department's history. From the beginning, she has focused on field experience as a prime learning opportunity for her students. As director of the Center for Labor Studies, she has built many links with local labor organizations, and other faculty are using these links for their students as well. While the service-learning component in Levi's classes is optional, more than half the students elect this option in her Introduction to Labor Studies course.
QUOTE: "In the late '70s and throughout the '80s, before service learning had become fashionable, she was doing it out of her personal commitment and her vision of quality undergraduate learning experiences."—Political Science Chair Michael McCann.
DEGREES: A.B., Bryn Mawr College, 1968; Ph.D., Harvard University, 1974.