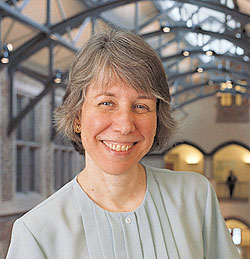 ANDREA KOVALESKY
Distinguished Teaching Award
After 20 years of working as a pediatric nurse, Andrea Kovalesky wanted more from her career.
She realized she would need an advanced degree, so she entered a Ph.D. program in nursing science at the UW in 1991 and began a six-year journey. During those years, she questioned how she might have a bigger impact on the field of health care.
The answer came when Kovalesky recognized that she could play a role in training more qualified nurses to address health care's critical nursing shortage. She began teaching RNs at the University of Washington, Bothell, sharing with them the first-hand knowledge and experience she has gleaned over her long career.
"Teaching nurses is a delight," she says. "The students we have are very inspiring."
As in all of her professional endeavors, Kovalesky has drawn on her personal and professional experience to develop her body of research.
"What we do in nursing is to help people get through the tough times," she says. "Oddly enough, it can be gratifying to talk to people who are sick and dying and having tough times. There's lots of satisfaction." It is that sense of satisfaction that she instills in her students.
"Kovalesky has a unique ability to relate to the class," says Gary Yurina, one of Kovalesky's students. "She encourages open discussion on issues, presents multiple sides of arguments, and stimulates thought-provoking discussion. Kovalesky demonstrates the difficult ability to make complicated abstract theory come alive."
When Kovalesky is not teaching, she is busy conducting research and writing papers. Much of her research has revolved around mothers and addiction, situations she saw frequently as a pediatric nurse. She points out that 20 years ago, many children from broken homes and environments of addiction received no treatment. Today, those very same people are adults, many of them mothers, who are grappling with their own addiction problems.
"Twenty years ago, we didn't have programs for them, and now we are blaming them," Kovalesky says. "But we now know a lot about addiction; we know that treatment works given the right support. I believe that treatment works and that people can get into recovery and have good lives. Having seen that, it's easy for me to do research in the field."
In summing up her teaching style, Kovalesky says being approachable is paramount. "I've thought back to esteemed teachers in my life, and some of the overriding characteristics of those teachers were that they were approachable, thoroughly enjoyed the subjects that they taught, and genuinely cared about each student's success," she says. "I have tried to make these aspects the foundation of my own teaching philosophy." —Cynthia Scanlon, UW Bothell