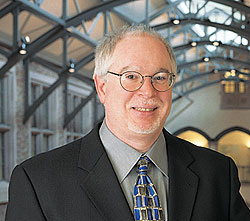 RONALD S. IRVING
Distinguished Teaching Award
If trickle-down theory works in education, then Ron Irving, a UW mathematics professor, is having a profound effect on high school math students in Washington and elsewhere. Over the past five years, Irving has been teaching abstract algebra to UW students destined to become high school teachers.
The course he teaches is tough—not only because it deals with extremely abstract material—but also because it involves learning how to communicate effectively about difficult mathematical ideas. "My focus is how to communicate mathematical ideas in speaking, writing, listening and reading," he says. "My sense is that for students who are going to be secondary math teachers, it isn't so important how much math they know, but how they can communicate ideas."
The idea that communication is as important as the mathematical task itself is novel for many students.
"Mathematics is not only a calculational tool," Irving declares. "If it were, you could just use a computer program. It's the flavor of math I want to teach. It's about ideas and communicating ideas, and ideas are hard. It doesn't do any good to do a new thing if you can't convey it."
Like many faculty attracted to the UW, Irving arrived here in 1980 focused on his research (on representation theory and ring theory).
His work led him to visiting positions at the Institute for Advanced Study in Princeton and the Mathematical Sciences Research Institute in Berkeley. He was a National Science Foundation (NSF) postdoctoral fellow and has served as principal investigator on a number of grants funded by the NSF. He's given presentations on his research interests at conferences all over the world and has published extensively.
Despite his outstanding record as a researcher and author, it wasn't until he tackled the challenge of preparing future teachers that a deep passion for teaching ignited. "I always kind of liked teaching; it was fun," he says. "But, until I did this, I didn't know there was a deeper joy. It's by far been the most rewarding teaching experience of my life."
Susan Sturms, a former student of Irving's, is now a high school math teacher in the Seattle public schools. She says, "The vast majority of my experience as a student has been in a classroom environment that fostered competitiveness, passivity and memorization of data or algorithmic approaches. Ron's gift as a professor is his ability to create an environment that requires collaboration, active participation and problem solving founded in a firm understanding of underlying principles." —Julie Garner