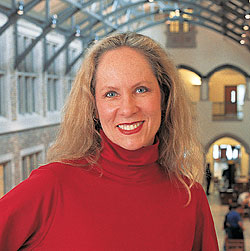 ROBYN HUNT
Distinguished Teaching Award
A coach, guide, teacher, director and professional actor who has performed throughout the U.S. and internationally, Robyn Hunt gives her students "110 percent on a bad day." That's the assessment of Sarah Nash Gates, director of the School of Drama, where Hunt is an associate professor.
In 1988, Hunt became head of the UW's undergraduate drama program. Since then, she has reorganized the curriculum, increasing the number of drama majors and strengthened the program devoted to performance.
Last year she stepped down from this position to devote her time to the M.F.A. Professional Actor Training Program. She teaches a rigorous system of physical training she learned in Japan and helps her students create and perform original, one-person theater pieces.
Hunt draws on years of experience on the stage. She earned her M.F.A. in acting from the University of California, San Diego in 1978 and since then has directed plays, acted and conducted workshops across the country. But she always wanted to teach, a desire she attributes to her father, who served as her first and strongest mentor. Hunt says that her father, a retired chair of physical education at UCSD, served as a living example of how a generous and attentive teacher could help students.
Hunt's lack of ego is demonstrated by an experience she had with Catherine Madden, an artist-in-residence at the School of Drama. The techniques Hunt was teaching her students were actually undermining one of Madden's techniques.
"As I approached Hunt with my questions and objections, I experienced how much Hunt's work is about excellence in her teaching and not about 'hanging on' to previous conceptions," Madden says. "Not only did Hunt start changing how she taught specific techniques, but she also started inventing new exercises that addressed the very issues that I had brought to the class."
Peter Kyle, lecturer in the UW Dance Program, says that Hunt has a unique ability to create bridges to maximize the benefits of a university education. For example, she has taken graduate students on a series of visits to the Chamber Dance Company. After dance rehearsals, Hunt leads lively discussions about how the dancing and acting relate. "The students seemed not only invigorated by the exchange, but also eager to return to their own work, empowered by the new information," Kyle says.
Hunt is always creating new ways for students to learn, whether it's through dialogue after a dance concert, new techniques or performance ideas. When Hunt and her students begin their work, it's always a fresh creation. —Julie Garner