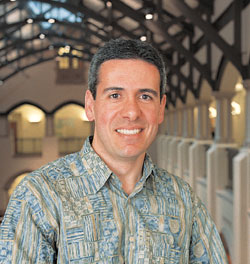 CHRIS DIORIO
Distinguished Teaching Award
Anyone taking a look at Chris Diorio in 1997 would have thought, "Here's a guy who has it made." He was a senior staff engineer with a top-flight company in Los Angeles, developing high-speed circuits and systems. That year he also earned a doctorate in electrical engineering from Caltech. His employer had just offered him a position as a technical fellow. His wife had just finished her medical residency, their two daughters had just turned 3 and 6, and they lived within bicycling distance of the beach.
Yet Diorio wasn't really where he wanted to be in life. The more he got promoted, the more time he spent on business and management. And Diorio, a self-described "kid at heart," preferred problem-solving, playing with technology and spending time mentoring junior engineers. For years, his wife had prodded him to consider academia. Then, a colleague, who had retired and had lifelong dreams of traveling, died of cancer. Then and there, Diorio decided to change his life, and turned to teaching.
"These were turning points for me," says Diorio, who has been an assistant professor in the Department of Computer Science and Engineering since 1997. Ensconced at the UW, Diorio realized that his wife was right. He loved the intellectual freedom the UW offered—and he loved being a teacher.
Since 1997, Diorio has taught every quarter except one, and five of nine courses he has taught were either brand new or substantially revamped. "Chris has transformed our undergraduate and graduate curriculum," says Computer Science and Engineering Chair Ed Lazowska, "by infusing five entirely new courses in three years—courses that exploit his seven years of industrial experience as a designer of ultra-high-speed logic for satellites, and courses that totally change our students' view of computation."
Chad Lindhorst, a former student, paints a vivid picture of Diorio in the classroom: "I saw an incredibly bright professor jumping up and down, drawing diagrams on the board and making up voices for electrons and transistors (the big transistors sounded a little deeper). ... He was constantly showing us the different ways contemporary professionals address problems, including many advanced topics. This gave us a wonderful feeling that what we were doing was real."
Despite a heavy teaching load, Diorio has also managed to reap several prestigious professional awards. He received an Alfred P. Sloan Foundation Research Fellowship in 2000. In 1999, he received both a David and Lucille Packard Foundation Fellowship and a National Science Foundation Presidential Early Career Award in Science and Engineering. —Julie Garner