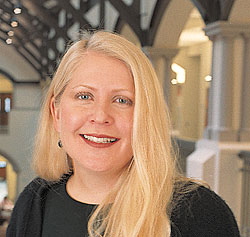 KATHLEEN COOK
Excellence in Teaching Award
DEPARTMENT: Teaching Assistant, Psychology
COURSES TAUGHT: Instructor for Social Psychology; TA for Psychology 101 and 102, Abnormal Psychology, Social Psychology and Personality Psychology.
ACHIEVEMENTS: Cook was the lead TA for the 1999-2000 school year and won the department's Distinguished Teaching Award. She helped put together orientation for incoming graduate students, which is essential in preparing the students for their first teaching assistant experience. Cook encourages students to be creative and works one-on-one with students to help them achieve success.
QUOTE: "Rather than relying on multiple-choice exams ... Kathy uses a variety of written assignments to vary both the type of material she obtains and students' opportunities to learn. I thought Kathy might be too ambitious in her goals for the course, but she has carried it off admirably. She is not afraid to take chances in her teaching."—Seattle University Psychology Professor John Davis, '98
DEGREES: B.A., University of Louisville, 1988; M.A., UW, 1996.