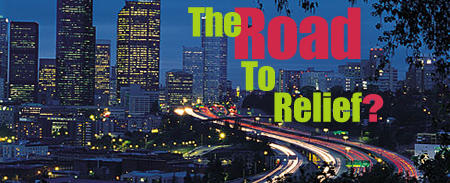 By Rob Harrill. Photography by Kathy Sauber.
"I've learned to do a lot of deep breathing, and if I'm really stressed I try to put on classical music," says Walter Neary, who commutes about 40 miles each way from his home south of Tacoma to the UW.
"Things tend to snarl between Federal Way and Southcenter, slow at Boeing Field, and at the first Seattle exit it crawls," he says. "A lot of people make that drive white-knuckled—you see them, fighting for every inch. It can get bad."
How bad? Last November, Seattle was ranked third among U.S. cities for the amount of time drivers spend stuck in traffic. The intersection of Interstates 5 and 90 was designated as one of the nation's most congested.
But little does Neary or the other hundreds of thousands of drivers know that a UW engineering project is making their life a little easier.
A UW computer program using "fuzzy logic" can deliver exacting answers about the ever-changing status of area freeways to help move traffic more efficiently, according to Deirdre Meldrum, UW associate professor of electrical engineering and principal investigator on the project. The system uses a computer algorithm that can balance conflicting objectives and anticipate problems before they become critical, resulting in smooth, continuous control to prevent or delay congestion.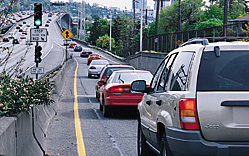 ---

Cars lined up at Seattle's metered freeway ramps, such as this one leading to I-5, get the green light from a computer program that uses "fuzzy logic."

---
In tests last spring, the ramp-metering algorithm produced an 8.2 percent reduction in freeway congestion on a stretch of I-90 from Issaquah to Bellevue—significant enough to be noticeable on a day-to-day basis. It also prevented a bottleneck near the Eastgate on-ramp, a task at which the old system failed. Fuzzy logic now dictates traffic flow on all 126 of the metered freeway on-ramps in the Seattle area.
And it's caught the attention of traffic engineers across the country, according to Meldrum and Cynthia Taylor, a UW research engineer who designed the algorithm that makes fuzzy logic tick.
"We've received a lot of positive feedback," Meldrum says. "There's been quite a bit of interest and a lot of people have made inquiries, wanting to know more."