Extras
Wendy Hill: Teaching About Research
Wendy L. Hill, '84, used to cringe when she and fellow TAs at the University of Washington would gather for weekly sessions to learn the art of teaching. Videotapes of them in action teaching undergraduate classes would be played, and critiques would follow.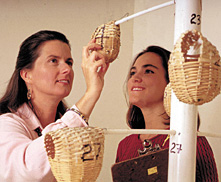 ---

Wendy Hill (left). Photo courtesy of Lafayette College.

---
"At first, it was very demoralizing," she recalls, "but we learned so much. It was very valuable."
Talk about learning your lesson: Hill, who is on the faculty of Lafayette College, was named Pennsylvania's 1999 Professor of the Year by the Carnegie Foundation for the Advancement of Teaching. The award salutes her extraordinary dedication to teaching and exceptional impact on and involvement with undergraduate students.
The U.S. Professors of the Year program—a collaboration of the Carnegie Foundation and the Council for Advancement and Support of Education—is the only national award program that honors college professors who excel as teachers and influence the lives and careers of their students. Two other UW graduates were honored as well. Christina M. Mumma, '77, '84, an associate professor of nursing at the University of Alaska Anchorage, was named the best professor in Alaska, and James Louis Nimnicht, '71, a professor of business at Central Washington University, was named the best in Washington.
Hill, who teaches comparative and physiological psychology, played the lead role in creating Lafayette's new program in neuroscience, an increasingly popular, interdisciplinary area of study that focuses on the ways in which humans and animals are affected by the activities of the nervous system.
Her primary goal is to involve all undergraduates in a research project. "The heart and soul of science is conducting research," she says. "I believe that research makes science an adventure. The students are colleagues. They are not here just to wash bottles and clean floors. We are really working together." Many of her students have published articles in scholarly journals and presented papers at professional conferences.
Born and raised in New Jersey, Hill came to the UW in 1979 to pursue a Ph.D. in animal behavior. It was here that she got her first taste of teaching.
Her secret to success? "I always remember what it is like to be a student," she says. "And I know there is no better way to teach science than to have students get their hands dirty on a project. It helps personalize science, and helps undergraduates develop the critical thinking skills that are necessary."
Hill, who joined Lafayette's faculty in 1989, twice was honored with major awards at Lafayette. She also is involved with Project Kaleidoscope, a National Science Foundation program committed to strengthening undergraduate education in science, mathematics, engineering and technology.
While the recognition is nice, it isn't what drives her. "I am enriched by every new scientific adventure with every new generation of students," Hill says. "I enjoy each new discovery. I learn as they learn, and I am a better teacher for it."—Jon Marmor