---

President Richard L. McCormick in his office in Gerberding Hall. Photo by Mary Levin.

---
By Tom Griffin
When he looks back over his first five years at the UW, Richard L. McCormick will admit that he is "battle hardened," "worried," and had his share of disappointments. He'll even reveal that he has been wooed by other universities. But that doesn't take away from the joy he feels as the 28th president of the University of Washington. "I love coming to work every morning," he says.
As the CEO of a $1.8 billion enterprise with three campuses serving more than 50,000 students, faculty and staff, McCormick has kept a steady hand on the wheel during a sometimes bumpy ride.
Since he took over from William P. Gerberding on Sept. 1, 1995, he's seen the sudden firing of the football coach, the tragic death of the medical school dean in an avalanche, a morale-busting faculty brain drain and the dismantling of affirmative action programs he strongly believes in. But he's also seen record levels of research support and private giving, the establishment of new partnerships beyond the boundaries of the campus, innovative means for inspiring change within the UW, permanent homes for two new UW campuses, and initiatives to transform undergraduate education and improve the graduation rate.
That he will celebrate his fifth anniversary this summer is noteworthy. When he accepted his position, the average tenure of a president at a Ph.D.-granting institution was less than five years. While that number has improved slightly, the American Council on Education says top universities can expect new leaders every six years.
McCormick says he is staying put ("At this University there has been a tradition of presidential longevity," he notes), but his achievements haven't gone unnoticed by others. Recruiters from a private university and from his previous employer—the University of North Carolina at Chapel Hill—have sent feelers his way.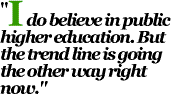 "I told them I'm flattered, but no thanks," McCormick says. "I believe in the mission of the University of Washington. I'm really proud to be doing what I'm doing. Although the pressures are great, so are the rewards."
His workday can be overwhelmingly long. Alumni have received e-mail messages from McCormick with a 4 a.m. time stamp. He can go through three commencement ceremonies in one weekend, then jump on a bus the next morning for a weeklong faculty field tour of the state.
McCormick doesn't seem pressed by the 24/7 lifestyle. "Everyone around me is working very hard too," he declares. "Tens of thousands of people, beginning with our students and extending throughout the state of Washington and well beyond, are depending on us for some very important work, and I believe in that work. That's pretty satisfying."
Although he's had his share of crises, McCormick says his first five years could have been much worse. "You know there are jokes about university presidents at schools like this, where the football team and the medical school and the hospital are sources of endless anguish. I have been almost completely spared that kind of thing."
Not that there haven't been disappointments. Near the top of the list is the passage of Initiative 200 in November 1998, which required all state agencies to dismantle their affirmative action programs.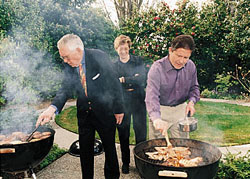 ---

Taking a break from running the UW, McCormick, far right, barbecues chicken with the help of his father, Rutgers Professor Emeritus Richard P. McCormick, while the President's wife, Suzanne Lebsock, watches. Photo by Mary Levin

---
"That was unfortunate. Initiative 200 brought, as we anticipated it would, a significant decline in the diversity of the freshman class we enrolled in 1999," the President says. Comparing the freshman classes of 1998 and 1999, there was a 33 percent drop in African Americans, a 23 percent drop in Native Americans and a 33 percent drop in Latinos.
The University is in the midst of a massive effort of outreach and recruitment, targeting students of color and those from disadvantaged backgrounds. The UW also wants to attract more top high school graduates in the state. But when asked if he feels he is doing enough, McCormick quickly answers, "No."
"We won't be doing enough until young men and women of color and those from disadvantaged backgrounds truly have equal opportunities for higher education in our state and in our nation," he replies.
"We can't be satisfied yet. The UW has many new outreach programs of which we are very proud. Over the long run, I do expect that they will result in an upturn in diversity. But I do not know what the results will be for the fall 2000. It would be very heartening if we turned the corner and restored at least some of the loss we experienced in 1999, but it is too early to know. These programs require long-term investments and long-term commitments."