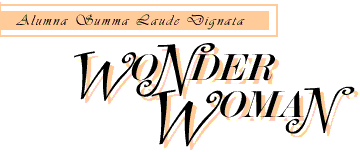 By Jon Marmor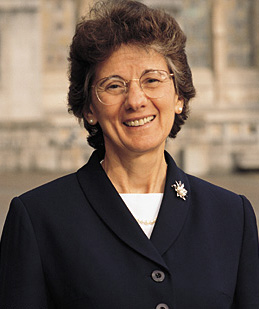 ---

Rita Colwell, '61, the first woman to be named director of the National Science Foundation, visits the UW campus shortly after her appointment. Photo by Jon Marmor.

---
It was never Rita Rossi Colwell's goal in life to prove all the naysayers wrong: "Chemistry isn't for girls." "Fellowships aren't wasted on women." "Wives can't apply for positions at their husband's institutions." So forget for a moment that there are legions of former teachers, professors and advisers around the country who have eaten so much crow they need a Costco-sized bottle of Pepto Bismol. Spite was not her motivation.
Love was.
Specifically, it was her love of science. Ever since she was a peanut of a kid, she yearned to figure out how things worked. Her burning desire to understand the workings of life—first in chemistry, later in microbiology as a doctoral student at the University of Washington—gave her the gumption to brush past the doubters and overcome the lack of support to accomplish her goal of becoming a college professor. But she didn't stop there.
Her insatiable curiosity, scientific ability and verve led her to become one of the world's foremost authorities on cholera, president of the prestigious University of Maryland Biotechnology Institute, a member of the National Science Board, and the elected president of two other eminent organizations, the American Society of Microbiology and the American Association for the Advancement of Science.
With each step, she blazed new trails, even though that wasn't her intent. Her list of being the "first woman to ..." grew longer and longer, and now includes her current position on the Mount Everest of her field. She is the first woman (and first marine scientist) to serve as the director of the National Science Foundation, the preeminent scientific research organization in the land.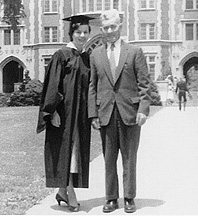 ---

Colwell and her father, Louis Rossi, celebrate at her graduation from Purdue University in 1956. Photo courtesy of Rita Colwell.

---
Not too shabby for someone who was told over and over that science scholarships weren't wasted on girls.
For her work, the University of Washington and the UW Alumni Association have bestowed upon her their highest honor: the 2000 Alumna Summa Laude Dignata award. She joins a distinguished list of alumni who, since 1938, have been honored as the alumnus of the year. Other winners include Seattle attorney and public servant James Ellis, '48; science educator Shirley Malcom, '67; artist Chuck Close, '62; Nobel Prize winning biochemist Martin Rodbell, '54; former Speaker of the House Tom Foley, '51, '57; and photographer Imogen Cunningham, '07. It is the highest honor the UW bestows upon its graduates.
"In all her work." says Denice Denton, dean of the UW College of Engineering, "she has demonstrated that she has tremendous initiative, determination, ability, and creativity to make an enormous contribution to society."
Go To: Page 1 | Page 2 | Page 3 | Page 4