Association News
Improved Career Services Program Ready to Help UW Alumni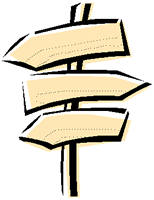 Even in today's robust economy, finding a new job or switching careers can be a challenging process. But University of Washington alumni now have an advantage—the UW Alumni Association's recently enhanced career services program.
UWAA Career Services offers a full array of career development and job search services, especially tailored to meet the needs of UW alumni. Services range from employment connections and career guidance, to educational and networking opportunities.
"In this economy, people are looking for ways to find out more information on career opportunities," says Carver Gayton, '60, '72, '76, commissioner of the Washington State Employment Security Department and chair of the UWAA committee overseeing the program. "The job market is very competitive. UWAA Career Services offers job seekers a chance to hook up with someone in the specific field or company they are interested in, and find a whole host of services in one stop.
"But the special advantage of UWAA Career Services is there is a feeling of affinity, of closeness, because alumni are dealing with other people who have strong connections to the University of Washington. It's much more a feeling of people looking out for their interests."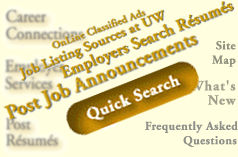 Led by Career Services Manager Don Gallagher, the program features a new Web site that serves as the gateway to the program's services. Simply point your Web browser to www.washington.edu/alumni/ and then click on Career Services. You will find these offerings:
Career Connections Originally developed in 1995, this service is being greatly expanded. Career Connections offers UWAA members an extensive network of UW alumni and friends as resources for informational interviewing and networking—not job placement. Career Connections can be a first step for many alumni—whether they are actively seeking new employment or simply contemplating a career change.
"People will change jobs seven or eight times during their careers," Gayton says. "To have someone, a fellow UW alum, to talk to about their career path, their opportunities, their experiences, will give you insight and knowledge to proceed on your own."
Of course, the alumni association can only provide world-class service with the support of its alumni. The key to a truly outstanding Career Connections program is having an extensive network of alumni—drawn from a wide variety of professions—stepping forward to offer assistance to alumni and students. To register on-line to serve as a Career Connections resource person—or to utilize this service yourself—simply visit the Career Services Web site and follow the links to Career Connections.
Search Jobs With another click of your mouse, job-seekers can access current job listings on the new UWAA Job Bank, developed in cooperation with the Washington State Employment Security Department. Employers specifically interested in hiring UW alumni and students will use this job bank.
You can also access other UW-based job listings, such as the UW Center for Career Services (specializing in listings for UW students and recent graduates) and UW Personnel Services (for employment opportunities at the UW). In addition, you can utilize the power of the Internet to search the WorkSource Washington job bank, classified ads provided by more than 25 newspapers statewide, national job boards, specialized job banks and company Web sites.
Talent Bank Here, you can develop and post your electronic résumé for employers utilizing both the UWAA and WorkSource Washington job banks.
"Many employers know how well-educated and trained UW alumni are," Gayton explains. "If a company knows from the start that they want to hire a person who graduated from the UW, they can go right to this site and immediately find UW graduates. This is a great advantage for UW alumni and students."
Employer Services Employers interested in accessing UW alumni can utilize this portion of the Web site to post job announcements to the UWAA Job Bank and to search for potential job candidates in the UWAA Talent Bank.
The UWAA Career Services Web site also links to a wealth of additional career-related information, encompassing occupations, wages, economic trends, job search strategies and skills—and much more.
"This is a comprehensive service that will benefit UW alumni tremendously," Gayton says. "And we think it will serve as a model for other universities and agencies. Finding jobs or changing careers is a stressful proposition, and to know that you have your alma mater on your side is a great benefit."
Employers and UW alumni with questions or comments about UWAA Career Services should contact Career Services Manager Don Gallagher at dongal@u.washington.edu, (206) 685-9274 or 1-800-AUW-ALUM.