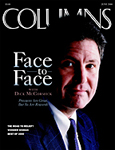 Face to Face: President McCormick · The Road to Relief: Traffic Cures · Wonder Woman: NSF's Rita Colwell · The Best of 2000: Awards
June issue
---
Links to UW News Sites
Murder-Suicide at Medical Center
UW Pathologist Rodger Haggitt was shot by medical resident Jian Chen in the BB wing of the UW Health Sciences Center on June 28 in what police are calling a murder-suicide. After shooting Haggitt, Chen apparently shot himself in the head. Both men died at the scene. According to police and press reports, Chen was about to be terminated as a resident in the pathology program. Haggitt was his supervisor. For more information, see Seattle Post-Intelligencer article and Seattle Times article.

Article in Daily's Humor Supplement Offends Campus
An article in "The Mutt," a new humor supplement in the UW student newspaper The Daily, angered both UW officials and students. The piece was supposed to be a parody that describes a new UW outreach program to meet diversity goals by recruiting black prison inmates, says this Seattle Post-Intelligencer article. The supplement's editor, Jason Sykes, resigned and wrote an apology.

Student Dies in Shooting
UW freshman James Sanderson died April 29th when he was shot by a pizza delivery driver after climbing on the driver's car at the corner of 50th Street N.E. and University Way N.E. Witnesses said Sanderson was behaving strangely prior to the 11 p.m. shooting. Press reports said he may have taken LSD earlier that evening. The driver had a permit to carry a concealed weapon, and no charges are expected. Sanderson, 19, lived in Lander Hall and was a resident of Bellingham. See also Seattle Post-Intelligencer article, and The Daily article.

Suzzallo to Undergo Renovation
$42.6 million in state capital funds will be used to carry out a major seismic upgrade and other renovations to the older wings of Suzzallo Library. The 20-month work has already begun: the Reading Room has been closed and some of the collections have been moved to offsite locations. The entire library should reopen sometime in winter quarter of 2002. See also UW Libraries renovation information.

Mary Gates Hall Opens
The former Physics Building on UW's Seattle campus has reopened after a $48.3 million renovation as Mary Gates Hall, a mix of computer labs, electronic classrooms and expanded undergraduate services. Named after Mary Maxwell Gates, '50, the building's facilities include 180 workstations; 23 classrooms with video, audio and Internet connections; and three teaching 'colaboratories.' Undergraduate student services such as freshman orientation, academic counseling, internships, Honors Program assistance and career services have been gathered alongside these labs and classrooms, linking teaching with research and public service and fulfilling the University's vision for undergraduate education. See also UW news release.

Final Agreement Reached on Light Rail
UW and Sound Transit signed a draft agreement on April 5 covering construction of the Link light rail line along the west side of campus. The agreement protects campus laboratories from vibrations and electro-magnetic interference, guarantees that traffic problems caused by terminating the light rail line at N.E. 45th St. will be mitigated by Sound Transit, and sets up a system of conveyors and barges for removing dirt and fill from construction sites. A final agreement was signed by the Sound Transit board on May 20. See also University Week article, Seattle Post-Intelligencer article.

New UW Real Estate Program Boosted by Gift
The UW College of Architecture and Urban Planning is launching the new Runstad Center for Real Estate Studies with the help of a $1 million gift from former UW Regent H. Jon Runstad, '65, and his wife, Judy, '74. The multidisciplinary center, drawing on present UW strengths in law, construction, finance, planning, architecture, geography and public affairs, will focus on regional real estate market conditions and will bring leading real estate scholars to the University. See also UW news release.

Pinsky, Poet Laureate, Commencement Speaker
The 125th UW Commencement ceremonies on June 10 will feature U.S. Poet Laureate Robert Pinsky as main speaker. Pulitzer prize nominee Pinsky, first-ever three-time Poet Laureate, teaches at Boston University and is heading up the "Favorite Poem Project" as part of the Library of Congress bicentennial. See also UW press release.

Magnets Might Manhandle Malaria
Because malaria parasites build up iron molecules as they attack red blood cells in humans, it is possible to damage them with weak oscillating magnetic fields. This treatment may be a boon to tropical countries, which are experiencing new, drug-resistant strains of the disease. UW researchers in bioengineering, pathobiology and electrical engineering are developing a new magnetic therapy that may be malaria's undoing. See also UW news release.

43 UW programs Are in Magazine's Top 10
U.S. News & World Report has deemed 43 UW programs as among the best in the nation in the latest rankings of graduate programs and professional schools the magazine published April 10. UW's nursing school and primary-care medical school were ranked as the best in the nation, and many other programs, from Drama/Theater to Mathematical Statistics, were ranked very highly. See also U.S. News Online, and UW news release.