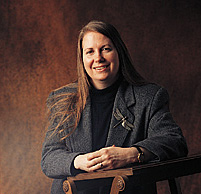 Robin L. Wright
Distinguished Teaching Award
Department: Associate Professor of Zoology and of Molecular and Cellular Biology; 10 years at UW.
Courses Taught: Introductory Biology, Introduction to Molecular Biology, Cell Biology, Advanced Cell Biology.
Achievements: Wright introduced technology-based learning and teaching techniques into the classroom and has mentored students in the Hughes, NASA and other programs. Currently, she is the director of the Howard Hughes Undergraduate Education Program, which funds undergraduate research. She has been pivotal in running outreach programs that connect community colleges and high schools with the UW.
Quote: "She is one of the only professors at this University who can remember the names of all of the students in a class of 150 students or more. She lectures in a way that is interesting, informative, and easy to follow. Robin is very in touch with her students, very patient, and she [is] always willing to answer questions, no matter how silly they may seem." ---Student Cheri Turner
Degrees: B.S., biology, University of Georgia, 1979; Ph.D., biological sciences, Carnegie-Mellon University, 1985.
Other Distinguished Teaching Award Winners: