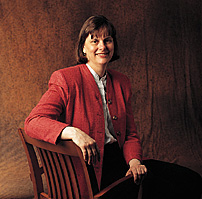 S. Sterling Munro Public Service Faculty Award
Department: Senior Lecturer, Chemistry; 10 years at UW.
Courses Taught: Introduction to General Chemistry, General Chemistry, Science Outreach Training, Teaching Chemistry.
Achievements: She created and administered the Science Service Learning Program. She is involved in other outreach efforts to assist with local Seattle schools. Through her example, students learn to contribute positively to the community while learning in the process.
Quote: "Science Service Learning offers students many unique experiences not available in purely academic courses. Through her vision, leadership, and high level of organization, Wiegand has developed an exemplary course that serves both the UW undergraduates and the community projects that participate." ---High School Human Genome Program Director Maureen Munn
Degrees: B.S., biochemistry, University of Illinois, 1973; Ph.D., analytical chemistry, Northern Illinois University, 1990.