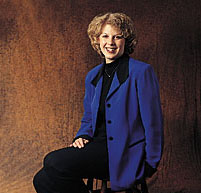 Stephanie D. Tomlinson
Excellence in Teaching Award
Department: Teaching Assistant, Speech Communication; three years at UW.
Courses Taught: Public Speaking, Communications in the Classroom, Children and the Electronic Media, News Writing.
Achievements: Adept at using a variety of strategies for the classroom, she routinely incorporates scholarly research into her courses. She consults frequently with other TAs about their teaching, freely gives of her ideas, time and teaching materials and resources.
Quote: "I have never had an instructor who has cared about my achievements and progress as much as Stephanie has. ... Stephanie not only taught us how to instruct and communicate with others, she also provided a flawless example of what a perfect teacher should be." ---Student Heidi S. Brough
Degrees: B.A., communications, Pacific Lutheran University, 1997; M.A., speech communication, UW, 1999.
Another Excellence in Teaching Award Winner: