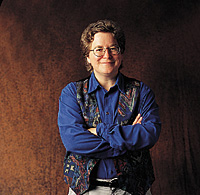 Distinguished Staff Award
Department: Administrator, Industrial Engineering; 11 years at UW.
On the Job: She oversees all aspects of departmental operations. She is the person to turn to for virtually any administrative need in industrial engineering.
Achievements: Stone is credited with restructuring the department, developing a strategic plan, and helping create a departmental visiting committee. She also organized and oversees a student advisory board. She was also a strong advocate for the UW School of Communications when it faced closure due to budget cuts in 1995.
Quote: "The department has benefited greatly from Kellus' ability to motivate those around her, her strategic financial management skills and her level of organization through creative thinking and problem solving." ---Margaret Remlinger, D.J. Miller and Deborah Fromm, Dept. of Industrial Engineering staff
Other Distinguished Staff Awards: