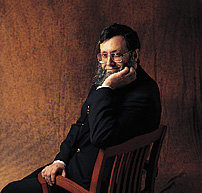 Distinguished Graduate Mentor Award
Department: Professor of Computer Science and Engineering; 16 years at UW.
Courses Taught: Programming Languages, Software Engineering.
Achievements: Notkin is a mentor who puts his students first. He introduces graduate students to influential people in the industry, funds many student research projects and helps students with scholarship applications. After graduation he maintains strong relationships with his former students, serving not only as a career adviser, but as a close friend.
Quote: "David will always be a mentor to me. I know that I can turn to him for support and advice and have him answer with my best interests in mind. I continue to trust, respect, and learn from his opinions." ---Former student Gail A. Alverson, '88, '90
Degrees: Sc.B., computer science, Brown University, 1977; Ph.D., computer science, Carnegie-Mellon University, 1984.