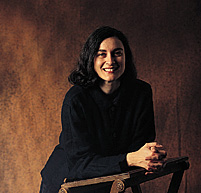 Distinguished Teaching Award
Department: Assistant Professor, Interdisciplinary Arts and Sciences, University of Washington Tacoma; four years at UW.
Courses Taught: The Making of America, Public History, History of Religion in America, Ethnicity and the Urban Landscape, American Architecture, Modern Architecture, Art of the Americas, The Material World: Art and Artifacts.
Achievements: She helped develop the Arts, Media and Culture concentration at UW Tacoma. She incorporates the latest technological trends into her classes. She supervises independent projects, acts as a mentor, and makes a special effort to know her students personally.
Quote: "[Julie] has touched the lives of hundreds of students, faculty and staff at the UW Tacoma ... [and makes] ongoing contributions to the growth, development and excellence of the UW Tacoma." ---UWT Chancellor Vicky Carwein
Degrees: B.A., art history, Pomona College, 1987; M.A., art history, Yale University, 1988; M.Phil., art history, Yale, 1990; Ph.D., art history, Yale, 1993.
Other Distinguished Teaching Award Winners: