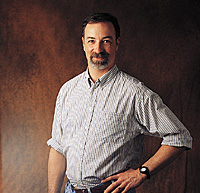 Dave Hurley
Distinguished Staff Award
Department: Senior Computer Specialist, Biology Program; 10 years at UW.
On the Job: Hurley runs the Biology Study Center, assists students with course work, answers questions and teaches study skills.
Achievements: He is credited with transforming the once "sleepy" Biology Study Area to a center that is vibrant with student activity and learning. From setting up hardware for laboratories to emergency assistance, to holding workshops for students, to learning computer technology, to maintaining the Web sites for the classes, Hurley has made the Biology Program successful with its outreach programs to undergraduate researchers and secondary schools.
Quote: "One of my colleagues has stated that Dave Hurley is a 'treasure, a natural wonder, a one-of-a-kind, jack-of-all-trades.' I concur! The Distinguished Staff Award must go to someone with dedication, innovativeness, and willingness to take his/her job to new levels—Dave Hurley is just such a person." ---Biology Lecturer Linda Martin-Morris
Other Distinguished Staff Awards: