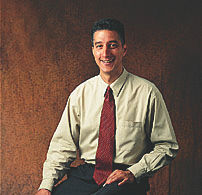 Scott Harding
Excellence in Teaching Award
Department: Teaching Assistant, Social Work; two years at UW.
Courses Taught: Poverty and Inequality in America, Social Policy and Economic Security, Community Change and Service, Cultural Diversity and Social Justice.
Achievements: His ability to teach and relate well to others is recognized by both staff and students. He is deeply committed to poverty and social welfare issues, which influence his class Poverty and Inequality in America. Harding is known to reach out to students and makes himself readily available to talk, help with assignments or projects.
Quote: "What makes Scott's teaching so powerful, I think, is a compelling blend of style and substance. He has natural gifts in the classroom. But these are grounded in a firm foundation of careful, indeed exhaustive preparation." ---Social Work Professor Susan Kemp
Degrees: B.A., government/journalism, California State University, Sacramento, 1984; M.S.W., Cal-State, Sacramento.
Another Excellence in Teaching Award Winner: