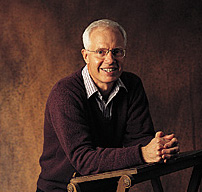 Distinguished Teaching Award
Department: Associate Professor, Health Services, 14 years at UW.
Courses Taught: Problems in International Health, Research Methods in Developing Countries.
Achievements: He founded and directed the International Health Program and has held this position since he created it 12 years ago. He is also the director of Health Alliance International, an organization that conducts public service projects as well as public education abroad. He has made many contributions to students through an Advanced Information Management Systems grant. He also serves as co-director of the Minority International Health Research Program.
Quote: "Steve is an extremely accessible professor; his door is almost always open and it is not unusual to find one or two students or faculty who have dropped by and gotten drawn into a discussion of public health issues." --- Undergraduate Education Dean Fred Campbell
Degrees: B.A., general studies, Harvard, 1969; M.D., University of Chicago, 1973; M.P.H., health and policy management, Harvard, 1983.
Other Distinguished Teaching Award Winners: