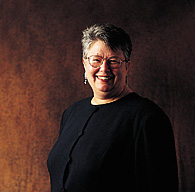 Cynthia Fugate
Distinguished Staff Award
Department: UW Bothell Librarian and Director of Academic Services; 16 years at UW.
On the Job: She oversees the library, information systems, slide library and media services. She also manages the UWB writing center, the Quantitative Skills Center and is in charge of much of the planning for the move to the new campus this fall.
Achievements: Fugate oversaw design of the library, media center and computer-linked classrooms of the new campus. In 1998, she spearheaded the implementation of the Campus Multimedia Studio. Within the library, she has administered numerous changes, including the online electronic reserve system.
Quote: "Providing excellent service to demanding clients requires the wisdom of Solomon, the patience of Job, and the humor of Rosie O'Donnell. Cynthia possesses these traits as well as the ability to attract and retain an outstanding team that functions well under challenging circumstances. If I were leaving the UWB to start any type of new enterprise, Cynthia is the person I would most like to take with me." ---UWB Vice Chancellor for Academic Affairs Stanley F. Slater
Other Distinguished Staff Awards: