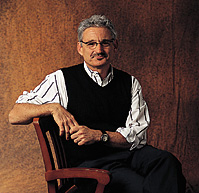 Outstanding Public Service Award
Department: Professor of Education; 28 years at UW.
Achievements: Edgar is a tireless advocate for meaningful special education programs for disabled kids and their families. He developed the Special Sitters Program, which allows parents of affected children to leave them with a trusted and trained caretaker. He serves on numerous boards of agencies working to serve people with disabilities, and on the Accommodations Committee of the Commission on Student Learning.
Quote: "His message is simple but profound: 'As special educators, we can't fix your child; no single therapy or treatment will ultimately make that big of a difference. As a parent, what you can do is love your children and provide them a loving environment. But it all starts with you loving yourself and your mates; only then will you will be able to love your child and get past your grief and frustration. Enjoy your child, enjoy yourself and mellow out.' This is powerful stuff for men to hear, and Gene delivers the message with sensitivity and care." ---James May, director of the Washington State/National Fathers Network Program
Degrees: B.S., special ed/geography, Indiana State University, 1965; M.S., special ed, George Peabody College for Teachers, 1968; Ph.D., special ed, Peabody College, 1972.