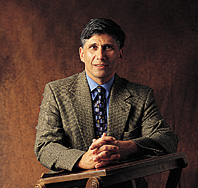 Distinguished Teaching Award
Department: Senior Lecturer, Geological Sciences; 19 years at UW.
Courses Taught: Geological Sciences, Geology of the Northwest.
Achievements: Incorporating down-to-earth explanations of complex geological issues, he is renowned for capturing the interest of non-science majors. Even when he teaches large lecture classes, he tries to memorize each student's name. He consistently makes himself available to faculty and staff whether it is during lectures, office hours or on a field trip. He is director of the Student Athletic Academic Services, which helps student-athletes balance athletics with academics.
Quote: "I was astounded by his casual approachability and came to genuinely like the person who was challenging me to better myself. As we tromped past hot springs on the way to Mount Rainier or examined old seabeds on the way to Snoqualmie, we got the sense that this person really cared about us, and viewed himself as a steward to help us define our futures." --- Former student Clay Schwenn, '93
Degrees: B.A., political science, City University of New York, 1970; Ph.D., geomorpholgy, University of Minnesota, 1980.
Other Distinguished Teaching Award Winners: