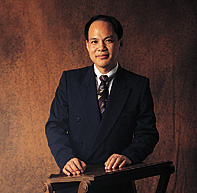 Distinguished Teaching Award
Department: Assistant Professor, Materials Science and Engineering; four years at UW.
Courses Taught: Processing of Inorganic Materials, Electrical Properties of Ceramics, Ceramic Processing.
Achievements: Consistently a winner of teaching awards within his department, Cao has developed five new courses around key multidisciplinary materials science research themes. His "problem-oriented" approach has been key in integrating research into the classroom.
Quote: "Cao is an extraordinarily talented, imaginative and productive young experimentalist. He is one of the superstars of his generation in sol-gel processing of materials and in diamond-thin film growth. ... Cao is a true jewel in our midst—multifaceted, pure in heart, strong in his convictions, and brilliant at making his dreams a reality." --- Materials Science Professor Gretchen Kalonji
Degrees: B.S., East China University of Technology, Shanghai, China, 1982; M.S. Shanghai Institute of Ceramics, Chinese Academy of Science, 1985; Ph.D. Eindhoven University of Technology, Eindhoven, Netherlands, 1991.
Other Distinguished Teaching Award Winners: