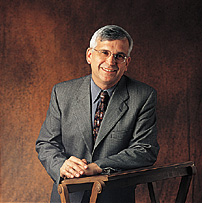 Distinguished Teaching Award
Department: Professor of Communications; 26 years at UW.
Courses Taught: Introduction to Mass Communication; History of Mass Communication; Ethnicity, Gender and the Media.
Achievements: Baldasty finds numerous ways to reach out to students and staff. He currently chairs 23 masters and Ph.D. committees. In 1978 he established the TA training program for the School of Communications. Currently, he serves as a supervisor on the Accrediting Council on Education in Journalism and Mass Communications as well as senior editor of Journalism History.
Quote: "I have never been so impressed, stimulated or changed by any course I have taken at the UW. He treated delicate subjects with the utmost diplomacy, and yet intellectually pushed us all to think differently about the world around us."—Graduate student Susan Schrenk
Degrees: B.A., communications, UW, 1972; M.A., journalism, University of Wisconsin-Madison, 1974; Ph.D., communications, UW, 1978.
Other Distinguished Teaching Award Winners: