ALUMNOTES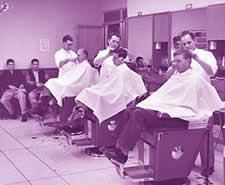 ---

Male students and faculty keep the HUB's barber shop busy in this 1950s photo. Women broke the gender barrier about 20 years ago and today the facility, called the "Scissor's Edge," is a full service salon. Photo by James Sneddon.

---
William Brueggeman, '27
Seattle, would love to hear from fellow classmates. He lives at 11448 Rainier Ave. S, #138 in Seattle. You can reach him by phone at (206) 772-7676.
Virginia Isham Harvey, '30
Freeland, is the subject of a documentary in the Living Treasures Project produced by NW Designer Craftsmen. A longtime contributor to programs of the Seattle Weavers Guild since 1953, she was curator of collections at the UW's costume and textile study center until her retirement.
Margaret Millay Henriksen, '32
Lewiston, Idaho, writes that her husband, George, was awarded an Honorary Doctorate of Science in Agriculture by the Univ. of Idaho. She recently completed a history of the Orchard's Community Church, which covers 90 years.
Margaret Cardiff Fuller, '35
Bellevue, is 86 and lives comfortably and in good spirits in an excellent care facility. She enjoys her friendships with a loyal and caring family and friends.
Joseph Stong, '39
Pasadena, Calif., writes that he "was happy to see the Huskies in a bowl game in San Diego ... with a young new coach." He and his wife, Dorothy, have lived for 40 years in Pasadena and have two dogs and two new orange tabby kittens.
Robert B. Anderson, '42, '52
Edmonds, retired as music director in the Edmonds School Dist. in 1974 and retired as music director of the Cascade Symphony Orchestra in 1992 after 30 years. He is still a professional violinist.
Ernagene F. Ingram, '42
Norton, Va., retired in March 1999 after working part time as a physician for the local health department. He is still active in church work and has been treasurer of his county's medical society.
Stan McDonald, '43
Medina, received the Year 2000 William Van Horne Visionary Award presented jointly by Tourism Vancouver and British Columbia's Council of Tourism Assoc. The award recognizes his contributions in helping establish Vancouver's position in the cruise industry. As founder of Princess Cruises in 1965, he played a leading role in helping create what today is a multibillion-dollar Vancouver-Alaska cruise industry.
James R. Huntley, '48
Bainbridge Island, is vice president of the Council for a Community of Democracies, which is participating in an intergovernmental conference in Warsaw in June to create a global community of all democracies. Send him e-mail at huntleyPAX@aol.com.
ATTENTION, CLASS OF 1950
Your 50-year reunion will be held Homecoming Weekend, Oct. 21, at Kane Hall after the UW-California football game. For more information or to help organize your reunion, call Cathy Deckard at 1-800-AUW-ALUM.
ATTENTION, CLASS OF 1950 ARCHITECTURE ALUMNI
Your 50-year reunion will be held August 25 at the Seattle Yacht Club. The dinner and no-host bar open at 7 p.m. If you are a class member and have not been contacted, please call Cork Berry at (206) 381-0933 or Gudmund Berge at (206) 232-0071.
Robert W. Kelly, '50
Virginia Beach, Va., is still active and working 40 hours a week in his pharmacy. He is looking forward to the class of 1950 reunion this summer. He writes, "How fast time flies when having fun—pharmacy has been very good to me all these 50 years."
Ramona Solberg, '51, '58
Seattle, is the subject of the second documentary in the NW Designer Craftsmen Living Treasures documentary series, Ramona Solberg: Jeweler, Teacher, Traveler. A pioneer in the contemporary jewelry movement, she was on the UW art school faculty until her retirement in 1983. Her work is on display in museums all over the world.
Richard W. Schlachter, '53
Portland, Ore., writes that his second wife, Maxine, passed away on Aug. 27, 1999. After losing both of their previous spouses, the two fell in love, were married on March 5, 1995, and enjoyed 4-1/2 years together.
Robert J. Bryan, '56, '58
Tacoma, was appointed to a four-year term on the Board of the Federal Judicial Ctr. in Washington, D.C. He has served as a federal judge on the U.S. Dist. Court for the Western Dist. of Washington since 1986.
James D. Siegwarth, '56, '66
Boulder, Colo., retired from the Natl. Institute for Standards and Technology after 30 years as senior scientist. He will continue as a guest researcher emeritus and pursue his hobby of paleontology.
Roger Bradley, '58, '61, '68
Twisp, retired from the Camas School Dist. in January 1990 after teaching high school for 26-1/2 years. He is now enjoying retirement in the mountains.
Jerome Farris, '58
Seattle, was elected chair of the Fellows of the American Bar Foundation in February. He has served as a judge on the U.S. 9th Circuit Court of Appeals in Seattle since 1979.
Harayuki Niimi, '59
Tokyo, is chairman and president of Showa Shell Sekiyu K.K. and is also the senior representative of the Royal Dutch/Shell Group in Japan.
Gary E. Striker, '59, '64
Miami, is a professor of medicine at the Univ. of Miami School of Medicine. He is also director of the Div. of Diabetes, Endocrinology and Metabolism, as well as director of the Vascular Biology Inst.
ATTENTION, CLASS OF 1960
Your 40-year reunion will be held Homecoming Weekend, Oct. 21, at the Burke Museum after the UW-California football game. Festivities begin around 6 p.m. For more information or to help organize your reunion, call Anne Novotney at 1-800-AUW-ALUM.
Robert C. Cowls, '60
Lake Forest, Calif., is sales director for the Americas, Delta Launch Services. He resides in Lake Forest with his wife, Evelyn.
Roberta Humphrey DeVore, '60
Seattle, is an associate broker in Windermere Real Estate's Capitol Hill offices. She and her husband, P. Cameron DeVore, an attorney, have three grown children and are the grandparents of 2-year-old identical twin boys.
A. Linn Bogle, '61
Durham, N.H., retired as professor of plant biology at the Univ. of New Hampshire in January 1999. His wife, Margaret P. Bogle, '61, retired as managing editor of the Botanical Journal Rhodora in December 1998.
Pat Jennings, '62
The Gambia, West Africa, has built a five-room school with a jungle gym and courts for tennis, badminton, volleyball, basketball and table tennis. Her students are ages 2 through 18 years old. The school also has computers and e-mail available to students.
Paul O. Pederson, '62
Dallas, has been with PriceWaterhouse Coopers for 38 years. In the management consulting division, he is the global leader for consulting methods, tools and project management. He also travels extensively.
William H. Pringle, '63
Issaquah, continues to pursue his interest in the culture and gardens of Japan. One of his projects is to study the history of the Korakuen gardens in Okayama, Japan. "It is a rewarding experience," he writes.
Lynn Murphy Crook, '65, '70
Richland, received the Media Achievement Award at the 16th Int'l Fall Conference of the Int'l Society for the Study of Dissociation.
Richard Rose, '65
Lakeville, Minn., was named Arbitrator of the Year by the Better Business Bureau in Lakeville. He works as a contract/subcontracts manager for General Dynamics Information Systems in Bloomington, Minn.
Bobbe Jean Chaback Bridge, '66, '76
Seattle, was appointed by Gov. Gary Locke to the Washington state Supreme Court in November. She had served on the King County Superior Court since 1989. She is active in such organizations as the Superior Court Judges Assoc. and the American Jewish Committee. She is married to former UWAA Trustee Jon Bridge, '72, '76.
Robert Fortner, '67
Bainbridge Island, has retired. He and his wife, Nancy, own Fortner Books and FortnerBooks.com, which buys and sells out-of-print books.
Michael D. Ryan, '67
Los Angeles, recently joined the law firm of Allen Matkins Leck Gamble & Mallory, a business law firm. He works in the firm's labor and employment practice.
Jeremy A. Jones, '68
Scottsdale, Ariz., is executive VP and director of design for DWL Architects and Planners. He recently designed his third community college and the award-winning Foothills Library. He now leads the design team for the $90 million Mesa (Ariz.) Arts and Entertainment Ctr.
Georgie Bright Kunkel, '68
Seattle, is listed in Who's Who in America 2000. Her book, You're Damn Right I Wear Purple! Color Me Feminist, covers her activism in the women's movement in the 1970s. It was published in April.
Bob Berkovitz, '69
Mesa, Ariz., is a fire weather meteorologist for the Nat'l Weather Service in Phoenix. He worked at the Nevada and California wildfire fighting agency posts last summer.
Daniel E. White, '69
Makawao, Hawaii, was appointed headmaster of Seabury Hall on Maui in 1998 after 14 years of heading independent schools in California. He also has published So Help Me God, which examines the intersection of religion and politics in American presidential inaugurations.
Eleanor Owen, '70, '75
Seattle, was recently awarded the King County Lifetime Achievement Award for her work in mental health. She founded the Washington Advocates for the Mentally Ill in 1978 and the National Alliance for Mentally Ill in 1979. She also taught drama at the UW and at Lakeside School.
Gaylord Reagan, '70, '71
Omaha, Neb., holds the Daughtery Chair of Management at Creighton Univ., where he teaches advanced organizational behavior.
Virginia E. Lomax Anderson, '71
Surprise, Ariz., received her master's from the UW in librarianship. She worked as a librarian in Federal Way, Argentina and Canada, just to name a few, until she retired in 1993.
Ole D. Bay, '71
Dublin, Ohio, was recently appointed controller of Williams Management Group, a manufactured housing retailer in Ohio.
Julie Brooks, '71
Boulder, Colo., has become VP of law and public affairs and general counsel for Channel Point in Westminster, Colo.
Julie L. Kimberlin, '71
Temecula, Calif., continues to win blue ribbons at regional quilt shows. She has been quilting for 14 years and has shown nationally. She has been published 10 times in books and magazines.

Wally Smith, '71
Seattle, recently retired as president and CEO of Recreational Equipment, Inc. (REI) after 35 years with the company. Under his direction, the cooperative grew from nine stores to 54.
Richard Rockwell, '72
Long Beach, Calif., has joined Construction Management & Development, a project management firm, as its VP for West Coast operations.
Charles McVey, '73
Kennewick, retired on Sept. 1 after 20 years with Lockheed Martin Hanford in Richland. He was the lead mechanical engineer of stabilization engineering.
Sharon Prieve, '73
Everson, retired in 1996 from varied careers: journalism, business owner/operator and paralegal. She then became a certified ombudsman through the state ombudsman program. "I keep active through my gardening and other varied 'country home' chores," she writes.
Steven P. Morta, '74
Ocean Shores, was laid off from Boeing after working as an aerospace engineer from 1977 to 1988. Since then, he has started an engineering and testing firm in Aberdeen. He is now married, and he and his wife, Jackie, own the Caroline Inn, where UW alumni receive a 10 percent discount. The Caroline Inn is located at 1341 Ocean Shores Blvd. S.W. in Ocean Shores, phone: (360) 289-0450.
Alice M. Cockerill, '75, '77
Bend, Ore., works in private practice with sexually abused children, using play therapy. She is married, with a grown child, and still loves being a psychotherapist. "Attending social work school was the best thing [I] ever did but [I] wish the money was better," she writes.
Mohammad Habib, '75, '76
Bellevue, worked overseas from 1977 to 1979 before returning to the U.S. to work at Kidde Consultants. He went to work at Boeing in 1997 as a project manager and engineer. He has been married for 20 years to his wife, Susan, and they have an 18-year-old son.
Patti Spencer-Watkins, '75
Seattle, recently joined Seattle Public Schools in public affairs and communications.
Capt. David Thomas, '75
Silverdale, took command of the Naval submarine base Bangor, near Silverdale, on Aug. 27.
Lynda Applegate, '76
Newton, Mass., is the Class of 1952 Distinguished Professor of Business Administration at Howard Business School. She is married and has a 9-year-old son, Christopher.

Pat Hansen, '77
Seattle, became the first Seattle graphic designer to be named a Fellow of the American Institute of Graphic Arts. She runs Hansen Design, an award-winning firm whose clients include Boeing, Korean Air, Ernst & Young, Teledesic and Seattle Goodwill.
Riichiro Sato, '78
Honolulu, went to the Iwate Medical Univ. School of Dentistry in Morika, Japan, in 1979. In 1989 he received a Ph.D. in histology and physiology and became an instructor in the Dept. of Fixed Prosthodontics. He later served as an assistant professor and department head. In 1995, he became the first Japanese-educated dentist to practice in Hawaii.
Kiran Bhatt, '79
Anaheim, Calif., reports that her poem "Honesty" was chosen as one of the best poems of the 20th century by the Intl. Library of Poetry. She is a clinical faculty member at UC Irvine Med. Ctr. Writing poetry is a hobby that she shares with her son, Biren.
Mark Ralston, '79
Suffolk, Va., is the director of the Children's Emergency Unit in the newly opened Naval Medical Ctr. in Portsmouth, Va. He is a pediatric emergency medicine specialist and has a master's in public health from Harvard Univ. His e-mail is meralston@mar.med.navy.mil.
Mark Sawyer, '79
Puyallup, was promoted to assistant project engineer with the Washington state Dept. of Transportation. He has been married to Jill Zeiman since 1991, and they have a 4 1/2-year-old son, Spencer.
James M. Hillenbrand, '80
Kalamazoo, Mich., was named Western Michigan Univ.'s 1999 Distinguished Faculty Scholar for his research on acoustics and speech perception in communication.
Elizabeth M. Smith Flynn, '80
Seattle, was recently named managing editor of Technical Analysis of Stocks and Commodities, an international magazine for traders.
Virginia M. Brelje, '81
Lake Oswego, Ore., had her novel, Finding Abby, released in hard cover in March. Publishers Weekly describes it as being "for anyone who is interested in the process of how, and how best to help people adapt to a hearing-impaired life." The publisher is Butte Publications, a small educational press.
Dan Gianelli, '81
Bellevue, was married to Tracey Williams in 1999. A territory manager for Fraser Papers, he has been in the printing and paper industry for 20 years.
Stewart Grant, '81
Malaysia, heads the Biodiversity and Genetic Resources Program at the Intl. Ctr. for Living Aquatic Resource Management in Malaysia.
Mike Murphy, '81
Hermosa Beach, Calif., is director of sales for Technical Concepts. He and his wife, Susan, have a year-old daughter, Kate. "Various sales management roles have taken me all over the U.S. since leaving the 'U,' " he writes.
Michael Wade Smith, '81
Memphis, Tenn., was promoted to associate chief nurse for infomatics with the Dept. of Veterans Affairs Med. Ctr.
Carol A. Cox, '83
Addis Ababa, Ethiopia, has joined the U.S. State Dept. and is vice consul in the American Embassy in Addis Ababa, Ethiopia.
Peter Morrison, '84
Winthrop, is executive director of the Pacific Biodiversity Inst., a non-profit science and conservation organization. He is also involved with Internet applications related to conservation of the Pacific Northwest.
Mary Ann Mertz, '84
Snohomish, completed her Ed.D. in educational leadership at Seattle Univ. in June 1999. She became VP, human resources and organizational development, at Overlake Hospital Med. Ctr. in Bellevue in December.
Mark L. Benguerel, '85
Newark, Calif., is VP of operations for Finelite, a manufacturer of commercial lighting products. He and his wife, Elizabeth, have two children, Ryan and Amy.
Jeffrey H. Marshall, '85
Phoenix, Md., has relocated to the Baltimore area to join The Baltimore as senior VP and chief financial officer. He also completed his master's from the Kellogg School of Management at Northwestern Univ.
John H. Wright III, '85
Phoenix, is a middle and elementary school teacher. After spending the last decade on the Navajo Indian Reservation, he now serves as VP of the Arizona Education Assoc.
Patricia de la Fuente, '86
SeaTac, is clinical care coordinator of the special care unit of West Seattle Psychiatric Hospital. Her job combines her background as a nurse and legal knowledge of involuntary detainment laws.
Lysander Johnson, '86
Vancouver, Wash., has lived and worked in Japan, Asia and Europe. She is currently in remission from thyroid cancer. She is self-employed and a volunteer for a hospice. This year she will be moving to Seattle.
Heather Drohan, '87
San Francisco, is celebrating the release of her first novel, False Alarm, in June. She is a CPA at a firm that handles the financial affairs of professional athletes. She lives in San Francisco with her husband and two children.
Gary C. Greene, '87
Kingston, is teaching special education at North Kitsap High School. "I'm doing what I want, where I want and at the level I want," he writes. "That's a tough act to beat."
Beatriz P. Pascual, '87
Columbia, S.C., is a graduate student at the Univ. of South Carolina, pursuing a master's in library and information science.
Thomas P. Shearer, '87
Gig Harbor, is the principal at Mount Tahoma High School. He formerly was superintendent of the American Int'l School of Lagos, Nigeria. In 1996, he received the Administrator of the Year award among all international schools in Africa.
Kimberly Robidoux, '88
Atlanta, is working at an architectural firm. She enjoys the climate in Atlanta, although "I miss the water and the mountains in the Seattle area," she writes.
Tulin B. Idemen, '89
Seattle, is working as a school psychologist for the Everett School Dist. For the past two years, she has been serving as president of Alpha Delta Kappa, Sigma Chapter of Bellevue.
Tiffany L. DeGross-Coleman, '90
Marysville, married Alan Coleman, '90, in 1996. After receiving her master's degree from Western Washington Univ. in 1994, she has been teaching literature at Snohomish High School. Alan works as a TV operations specialist at King County Civic Television.
Chris Platz, '90
Bothell, and his wife, Theresa, '96, bought a new house in May. Their third child, Peter Anthony, was born last June. Theresa finished her residency in family medicine and has joined the Bothell Medical Clinic. Chris says he continues to "play the stock market and juggle the kids."
David Quamme, '90
Seattle, received a professional certificate in photography, journalism and fashion from the New England School of Photography in 1995. In December, he completed a program in writing for magazines from the Long Ride writers group in Connecticut.
Josephine "Joey" Gray, '91, '94
Manitou Springs, Colo., is the executive director of the Ultimate Players Assoc. and serves on the board of the World Flying Disc Federation. She earned a bronze medal at the 1999 World Ultimate Championships.
Shawn Morse, '91
Urayasu, Japan, has been working for the past five years as a Japanese language translator and rewriter of technical documentation and corporate communications at G.K. Associates. He and his wife, Yoko, are looking forward to returning to the Pacific NW soon.
David Persohn, '91
Corvallis, Ore., writes that after spending three years at Hewlett-Packard in finance, he took a project management job in marketing.
Shelby Varden, '91
Seattle, was promoted to director of recruitment for Schwartz Brothers Restaurants and Cucina! Cucina! Italian Cafe Restaurants. Prior to that, she was general manager of Schwartz Brothers Catering.
William Dykas, '92
Boca Raton, Fla., is a strategic alliance manager for IBM's voice systems group. He and his wife, Cece, have two children, Claire, 4, and Peter, 2.
Dan Johnson, '93
Seattle, married Jill Chelimer, '97, in Seattle on Sept. 3.
Ken Olson, '93
Cambridge, Mass., will graduate in June from the MIT Sloan School of Management with an M.B.A. He has accepted a position with IBM as a corporate finance associate in treasury and mergers and acquisitions at its headquarters in Armonk, N.Y. He and his wife, Miwa, have a young son, Alex.
Todd M. Smith, '93
Seattle, reports that after finishing grad school, he did postdoctoral work with former UW Molecular Biotechnology Chair Leroy Hood. Afterward, he started a bioinformatics company in Seattle called Geospiza.
Raymond Tumbleson, '93
Kutztown, Pa., is an assistant professor of English at Kutztown Univ. He recently published the book Catholicism in the English Protestant Imagination: Nationalism, Religion, and Literature, 1600-1745.
Carolyn R. Williams, '93
Seattle, is working as the development/communications coordinator for the Make-A-Wish Foundation.
Michelle Pryor Bailey, '94
Helendale, Calif., is currently stationed at Fort Irwin, Calif., where she flies helicopters in the Army. She joined the army five weeks after graduating from the UW.
Eric Bjornson, '94
Irving, Texas, a tight end with the Dallas Cowboys, was inducted into Oakland's Bishop Dowd High School Hall of Fame. The honor recognizes alumni who have excelled in athletics, arts and sciences, and humanitarian efforts.
Jeanne Yum Kim, '94, '98
San Jose, Calif., was married to Byung Kim shortly after finishing dental school and the two moved to San Jose, where she purchased her dental practice.
Lynette Westendorf, '94
Seattle, just released a CD, Lynette Westendorf and Animal Dreams—Surrounded by Green, with all original compositions and recorded with a jazz ensemble.
Michael Backstrom, '95
Orlando, Fla., is developing Web sites and overseeing publishing maintenance at Maranatha Services. He is also a logistics management specialist and teaches computer classes at Valencia Comm. College.
Gail A. Ploman, '95
Seattle, is the executive director of the Deaf-Blind Service Ctr., a non-profit agency in Seattle.
Julie Shultz, '95
Long Beach, Calif., joined the Peace Corps after graduation and served as a teacher in Guinea, West Africa. In July 1999, she moved to California to attend graduate school at USC and is also teaching 8th grade English in Los Angeles.
Trishalana H. Vaughn, '95
Lampertheim, Germany, is pursuing her master's degree in curriculum and instruction. She is working as associate director of financial aid for National-Louis University's Heidelberg Int'l Campus. She had her first child, Colette, in January.
Leah Sippola Brazo, '96
Fullerton, Calif., is an interior designer for Taylor Woodrow Homes, a home builder in Southern California.
Kristie K. Marbut, '96, '97
Valdosta, Ga., is active in community and professional associations promoting children's health and safety. She is also active in the South Georgia Assoc. of Nurse Practitioners, educating the state Legislature about children's health issues.
Rosemond B. Santos, '96
Saipan, Northern Mariana Islands, is currently working for the Commonwealth of Northern Mariana Islands Legislative Bureau as a legislative assistant. She is also the CNMI Youth Congress coordinator and is the CNMI secretariat to the Assoc. of Pacific Islands Legislature.
Marci Spurling, '96
Redwood City, Calif., moved back to the San Francisco area three years ago and is happy to be back. She is working for a public relations agency doing publicity for consumer Internet start-ups.
Kristen M. Clark, '97
Seattle, was married on Sept. 11. She is the director of marketing for Int'l Lubricants in Seattle.
Gregory Damon, '97
Seattle, has been a senior consultant for Moss Adams Advisory Services since last August.
Barbara E. King, '98
Baring, is an occupational health nurse for Kimberly Clark's Everett facility.
Michael Tyksinki, '98
Seattle, is manager of Web services and communications at Western Wireless in Issaquah.
David Lowen, '99
Seattle, has joined the firm of Bader Martin Ross & Smith as a staff accountant in the tax department.
Ryan McMahon, '99
Portland, Ore., was promoted to product marketing manager and will be responsible for outbound marketing activities at Genedax, a Portland-based EDA software company.
You must be a member of the UW Alumni Association to be listed in the Alumnotes section. To join, call (206) 543-0540 or 1-800-AUW-ALUM.
---
Submit a Class Note
Tell us what major events have happened in your life: a new job, marriage, children, retirement, advanced degrees, you name it.

Submit an Obituary
Please let us know if a UW alumnus has died. Be sure to include date of death, place of death and age along with the UW class year (if known).

Update Your Records
Moving soon or know someone else who has? Let us know so that we can keep Columns coming to you.

Contact Information
Columns Magazine
1415 N.E. 45th Street
Seattle, WA 98105
Phone: (206) 543-0540
Fax: (206) 685-0611.
E-Mail: columns@u.washington.edu