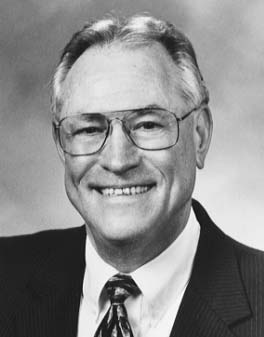 But the drama hasn't moved many legislators so far. Rep. Tom Huff (R-Gig Harbor, pictured at left), who is the current chair of the House Appropriations Committee, is cool to any talk about a crisis at the UW. "There is a brain drain at every level. Private industry is having a tough time holding onto its all-stars," he says.
While he agrees there is a pay gap between UW faculty and peer universities, he adds that "money isn't the only reason that people leave. There are a lot of different reasons."
The University knows it faces a challenge in Olympia. "There is much more skepticism about the role of public institutions broadly," says Associate Vice President for University Relations Sheral Burkey, the UW's spokesperson in the state capital. "The interest is in cutting back on state spending rather than investing in important state resources such as higher education."
Vice Provost Olswang, who has testified to lawmakers many times on faculty salary issues, shakes his head. "Somehow they view us as just another state agency," he laments. "Would Boeing underpay its CEO so he or she could be stolen away by Airbus?"
Like Boeing, the UW is a vital part of the Washington economy. A 1997 economic impact study found that the UW attracted more than half a billion dollars from out-of-state sources-new money added to the state's economy which generates new jobs.
The same study found that UW's $1.6 billion in direct expenditures generated an additional $2.8 billion in economic activity. The total UW economic impact on the U.S. economy amounts to $4.4 billion, with $3.6 billion occurring in Washington state.
More than 100 Washington companies have been born out of UW research, including 27 in 1997 alone. Discoveries by UW faculty have helped spawn everything from Optiva, which makes the Sonicare toothbrush, to biotech companies such as PathoGenesis and ZymoGenetics. Nobel Prize-winning faculty include a pioneer in bone marrow transplants and a physicist who was able to trap and hold a single electron.
Harder to measure is the public service UW faculty devote to the state. From the Olympic Natural Resources Center based in Forks to the Yakima Valley Farm Workers Clinic near Yakima, every corner of Washington is touched by UW faculty.
An inventory of efforts to improve K-12 education found that nearly 100 UW departments have about 150 programs in the state. One shining example is a science education project targeting 1,400 teachers at 70 Seattle elementary schools. Funded with $4.25 million from the National Science Foundation, the effort was the brainchild of Leroy Hood, chair of the Department of Molecular Biotechnology and a leader in research to decipher the human genome.
UW officials shudder at the thought of Hood leaving as historian Richard White did. If the brain drain continues, its impact on the community can only get worse. "You can't continue to expect the high level of contributions at these salary levels. You can't sustain it," warns Burkey.
"Basically, you can't keep good people if you can't pay them enough," says Psychology Chair Beecher. "The word is out that this is a good school to raid."
"People should be rewarded for doing a good job," Rep. Huff responds. The current appropriations chair adds that he might consider some kind of retention fund and perhaps a sliding scale of salary raises based on performance. But he notes that in the last state budget, salary increases for faculty were greater than for any other state employee group. And he wonders about under-performing faculty and what mechanisms are in place to increase their productivity or remove them. "In private industry we would never tolerate that," he declares.
UW officials know that even if the Legislature grants a 4.5 percent increase in each year of the budget, it won't wipe out the pay gap or stop the brain drain cold. But an increase will boost faculty morale and probably stop many from looking elsewhere. "We need a commitment, a goal to fix the inequities," says Olswang.
The alternatives are not pretty. "We're going to lose more people. In addition, recruitment is going to become even more difficult. We're going to have to hire second-rate people. We will become a mediocre university," warns Faculty Senate Chair Kaltsounis.
Although no one wants to face more department closures, the UW may have no choice. "To maintain quality we may have to do fewer things for fewer people," warns Olswang. "The institution would have to look at ways to protect its high quality areas," adds Burkey. "We would not be as comprehensive an institution as we currently are."
But it doesn't have to be that way, Gonzalez maintains . "It's not too late," says the former UW professor. "Washington has the potential to be just as good or better than Michigan. It's a matter of turning things around." *Tom Griffin is editor of Columns.
All alumni are invited to attend Higher Education Day in Olympia, to be held Thursday, February 11th in Olympia. For more information, contact Huskies for Higher Education at (206) 616-9116, 1-800-AUW-ALUM or e-mail hheinfo@u.washington.edu.
To contact your state legislator during the 1999 session, call 1-800-562-6000 or visit The Washington State Legislature Home Page.