In 1990 Richard Gonzalez got his Ph.D. from Stanford and went looking for a job. Harvard and UCLA courted the new psychology professor, but he rejected their offers and came to the UW instead.
"At that time it was an up and coming department. It was growing. It seemed to have lots of revenue, was hiring people and was very exciting. I intended to spend my career here," he recalls.
But budgetary pressures soon followed. When Gonzalez tried to integrate the computer into his classroom, there was no funding. "I tried to do it on my own time, but if you don't have the right equipment, it is very difficult," he says.
Then came weak research support and little clerical help. "We actually got charged for paper clips. It was ridiculous. In the business world, this doesn't happen." The pay situation was also disturbing. The Legislature froze salaries in one two-year period and then only granted sporadic raises. With inflation, "you were always falling behind," he notes.
Still, Gonzalez wasn't too interested when the University of Michigan came calling in 1997. "I really didn't take them too seriously at first. I felt things were going to turn around here."
But after a visit to Ann Arbor, Gonzalez thought twice about Michigan. "They were going to double my resources, double the size of my lab and give me a 40 percent pay increase." Due to his sabbatical leave, Gonzalez was committed to either teach that fall at the UW or pay back his salary. Michigan offered to cover whatever he owed Washington.
The UW tried to keep him. "Rich was an all-around professor," recalls Psychology Chair Michael Beecher. Not only was Gonzalez an excellent quantitative psychologist, but he was also a superb teacher. "He was extremely popular with the students and that was unusual in that he taught statistics," Beecher says.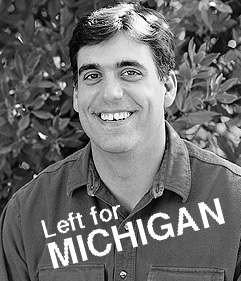 Gonzalez struggled with his decision for months. "It was like getting a divorce," he says. One factor was the state's 1997-99 budget. "When I started to hear what the state budget was like for higher education, it made a difference. But it was not one single thing. I realized I'd be much happier here (at Michigan) professionally."
In September 1997, Gonzalez packed his bags and moved to Ann Arbor. A year later, he says he has no regrets. "It's like heaven here," he declares. "I've got the funding to develop my teaching ideas. The University is giving me staff to help with computer programming and a computer lab.
"At Michigan, there's money to do actual work. The attitude is, 'If it's something important that you want to do, we'll make it happen.' "
Meanwhile, back at the UW, Gonzalez's decision was a blow to morale. A year later, Psychology Chair Beecher is still looking for a replacement and worries that another young faculty member may also leave for Michigan.
The University of Michigan isn't the only school that is knocking on Washington's doors. Illinois, Stanford, Northwestern, Cal-Berkeley-over the last three years most of the top names in American universities have tried to raid UW departments or lure away potential new faculty.
"The Worst It's Even Been"
Stories Behind the Numbers
The Challenge in Olympia
Beyond the Gap: Other UW Budget Priorities