Huskies Lose to Air Force 45-25 on Christmas Day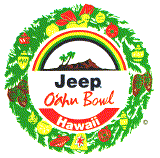 Air Force had something to prove, and it proved it in a big way. Snubbed in the national championship selection process despite an 11-1 record, the No. 16 Falcons took it out on Washington 45-25 in the Oahu Bowl on Christmas Day.
The Huskies finished their 1998 season with a 6-6 record. Washington had a fifth-place finish in the Pac-10 Conference with a 4-4 league record.
The game was the Huskies' fifth bowl appearance in Hawaii. Last year the Huskies defeated Michigan State 53-21 in the Aloha Bowl.
For more information on the game and the 1998 season, visit the UW Athletics Home Page.