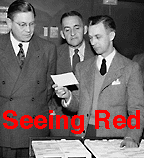 by Nancy Wick
The summer of 1948 should have been an easy time for UW Professors Herbert Phillips, Joe Butterworth and Ralph Gundlach. The academic year was over, and teaching summer school was never that stressful for faculty members--especially those with more than 20 years experience. But in June, these three men had received subpoenas from the state's Joint Legislative Fact-Finding Committee on Un-American Activities. In July they were to appear at public hearings in the Seattle Field Artillery Armory.
The committee--chaired by Rep. Albert Canwell, a Spokane Republican--was created by House Concurrent Resolution No. 10, which stated, "the committee shall investigate the activities of groups and organizations whose membership includes persons who are Communists, or any other organization known or suspected to be dominated or controlled by a foreign power."
The focus of the July hearings was the University of Washington.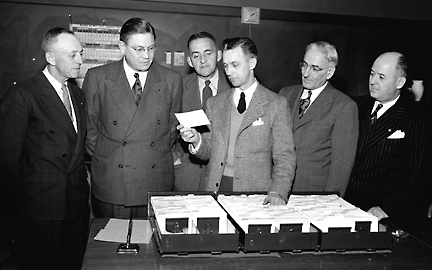 Members of the Canwell Committee include the chair, Rep. Albert Canwell, in the center holding the index card. Other committee members are (left to right) Rep. Grant Sisson, Chief Investigator William J. Houston, Sen. R.L. Rutter, Rep. Sydney Stevens and Sen. Thomas Bienz. Photo courtesy of Seattle Post-Intelligencer Collection, Museum of History and Industry.
---
Phillips no doubt knew why he had been subpoenaed. A teacher of philosophy, he always warned his students to watch out for a Marxist bias in his opinions. He had taught at the UW since 1920 and had tenure, even though his title was assistant professor. Butterworth said nothing about his political views in the classroom, but then, the subject rarely came up in the study of Chaucer and Old English. After earning a master's degree at Brown University, Butterworth had taught at several schools and enrolled in the UW's doctoral program, but had never earned his Ph.D. Still, he had been on the faculty as an "associate" since 1929, and he too had tenure.
Gundlach chafed at his subpoena. As a social psychologist, he was passionate about applying his psychological knowledge to real world problems, and had been among the earliest members of the Society for the Psychological Study of Social Issues. He had also supported a long list of liberal causes and organizations, but the Communist Party, he told friends, was not among them. On the faculty since 1927, he was an associate professor with tenure. Now, with the hearings approaching, he wrote to several of his colleagues:
"The strategy of the Canwell Committee is really to split the faculty into various groups and classes; and likewise to split up those who have been subpoenaed so that a number of persons may be fired, to the great relief of those challenged but missed but who can then thankfully fight a losing battle for those discharged."
His words proved prophetic. In October, Phillips, Butterworth and Gundlach--together with several of their colleagues--were brought before the tenure committee of the Faculty Senate. In January, 1949, all three were summarily dismissed. None ever worked in academia again.
Fifty years have passed since the hearings that cost these men their jobs. Not an anniversary to celebrate, but the University will mark it with a reconsideration of the period in which these events took place. The "All Powers Project," an interdisciplinary effort including speeches, panel discussions and even a dramatic recreation of the hearings (see Red Alert) will give today's citizens a chance to understand what happened and some of the reasons why.
Prelude to the Hearings: "Communists Have Infiltrated the UW"
The Hearings: "All Powers Necessary and Convenient"
The Firings: Three Professors Sacked, Three Others Put on Probation
The Aftermath: Banned from Academe
The Apology: "A Dark Day in Our History" Says UW President
Red Alert: Lectures, Exhibits and a Play about the Canwell Hearing
Reader Reaction to "Seeing Red": Was It "Superb" Reporting or "Trash"?
Online Primary Sources of the Canwell Committee Hearings