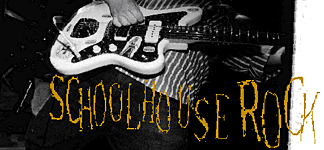 What's thought of as the modern Seattle music scene began in the late '80s and even Jonathan Poneman--one of the co-founders of Sub Pop records--spent at least some time attending classes at the UW. Poneman, like many of the music fanatics in Seattle at the time, found a welcome home at KCMU, the student-run campus radio station. Also doing a show at KCMU was Bruce Pavitt (who had attended Evergreen State College), and the two formed a partnership that became Sub Pop, the most influential "indie" record label of the last three decades. Many of the bands that went on to sign with Sub Pop were first exposed to Seattle audiences through KCMU.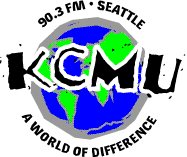 For several years KCMU was ground central for the Seattle music scene. It was the only area radio station that regularly supported local bands, and, if its listenership was tiny, it was influential in breaking many bands, and not just Seattle bands (KCMU also made the Legendary Pink Dots legendary by repeated airplay). At times the station had more DJs than listeners, but it's no exaggeration to say that virtually every volunteer who had an air shift in the late '80s ended up getting a job in the music industry or playing some role in the Seattle scene.
"KCMU helped create a really vibrant and self-aware music scene," remembers Faith Henschel, '88, who was music director in the early '80s. "It gave everyone a sense of community. The time I'm speaking of was before the grunge phenomenon but KCMU was still very sympathetic to local bands." Henschel has herself gone on to become a vice president of marketing at Capitol Records in Los Angeles.
Henschel and KCMU also had a major role in breaking one local band that eventually went on to become one of biggest successes out of Seattle. Kim Thayil, '84, and Hiro Yamamoto had moved to Seattle following their high school buddy Bruce Pavitt, who had come to the Northwest to go the school at Evergreen. Thayil wasn't taken with Evergreen and ended up moving to Seattle to enroll at the UW. It was there that he won a prize on KCMU (listenership was small enough that there wasn't a lot of competition). "I went down to pick up my prize," Thayil later told Alternative Press, "and they said, `You're always around anyway, how'd you like to work here full-time?' " Thayil ended up becoming a popular DJ on the station and he also managed to last all four years at the UW--one of the few musicians who finished. He eventually graduated with a degree in philosophy.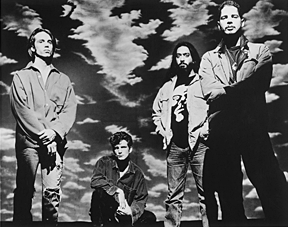 ---
Soundgarden includes (from left) Matt Cameron, Ben Shepherd, Kim Thayil and Chris Cornell. Photo by Kevin Westenberg, courtesy of A&M Records.
---
Thayil's band Soundgarden soon linked up with manager Susan Silver (who had also attended classes at the UW) and the group received their first radio exposure came from KCMU. "I remember the day we got the first Soundgarden single in and how many times we spun that," recalls Mike Fuller, '82, another KCMU vet. "KCMU broke that band, at least locally." Fuller now works as a DJ with Kidstar radio in Seattle.

Thayil's own show on KCMU is best remembered by other jocks as "eclectic" but it reflected what Henschel describes as "his personal favorites." It was that ability to go out on a limb--a creativity only allowed at the time on college radio--that helped support a revolutionary new style of music. "When Kim and Bruce [Pavitt] played those sort of records, it helped lead to acceptance of their favorite music and eventually to acceptance of their own bands," says Henschel.

The list of KCMU volunteers in the late '80s (most of whom were students) reads like a who's who of the Seattle music industry in the '90s. Apart from musicians like Thayil and Yamamoto from Soundgarden, Steve Turner of Mudhoney also contributed, as did Jeff Smith of Mr. Epp, and Scott Vanderpool of Chemistry Set. There were the label mavens like Poneman and Pavitt, plus numerous DJs that eventually tried their hand at journalism: Veronika Kalmar, now managing editor of The Rocket; Jeff Gilbert, Guitar World's Seattle beat reporter; Peter Blecha, now with The Experience Music Project; and Glen Boyd, a journalist and promoter who went on to work at both Nasty-Mix and American Recordings. At the time, the line between being a fan and being a promoter was thin, since both the audience and the stakes seemed so small.

As music director, Henschel was part chamber of commerce and part salesperson. She did something few DJs ever do: She started promoting the bands the station was playing to national labels. She put together a tape, prophetically titled "Bands That Will Make Money," and sent it to everyone she could think of in the music industry both locally and nationally. The tape featured a collection of Seattle bands that weren't getting attention outside of the area. "She included bands that the station was playing a lot, and that they'd carted up, but that no one else had heard of," says Dave Rosencrans, '88, former KCMUer. "And when she sent them out, it garnered a lot of attention."

ASUW Concert Promoters Take on the World
Today: The Changing Dynamic of the Seattle Scene
Best of the Northwest: Cross's Fantasy Band of UW Alumni and Former Students

Send a letter to the editor at columns@u.washington.edu.