U.S. News & World Report put the University of Washington 10th among all public universities in the nation in the quality of its undergraduate education, the magazine reported Sept. 9.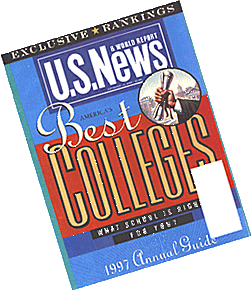 Its 10th annual "America's Best Colleges" issue ranked colleges and universities based upon student selectivity, faculty resources, financial resources, retention rate, "value added" and alumni giving. The value added standard tries to measure how effective an institution is in helping its students graduate. The magazine also polled 2,730 college presidents, deans and admissions officers on each institution's reputation.
Considering both private and public institutions, Yale University ranked first and the UW was 42nd in the overall rankings. Besides the UW, the other top 10 public universities and their overall rankings were: Virginia (21), Michigan (24), North Carolina-Chapel Hill (25), Cal-Berkeley (27), UCLA (31), UC-San Diego (34), UC-Irvine (37), UC-Davis (40) and Wisconsin (41).
The UW was ranked third as a "best value" based upon what it charges for out-of-state tuition compared to the value of its education. However, in the magazine's "discount price" rankings--which factor in the amount of financial aid available to out-of-state students--the UW did not place among the top 50 "best values."
The magazine also placed the UW School of Business 17th and the UW College of Engineering 16th, based on their undergraduate programs.
In its Aug. 12th edition, the magazine ranked the UW Medical Center 12th among "America's Best Hospitals." The medical center was cited for its "top 10" programs in rehabilitation, cancer, geriatrics and orthopedics. The magazine placed Johns Hopkins Hospital at the top of its list.
Send a letter to the editor at columns@u.washington.edu.