December 1996 Columns
Latest update: Feb. 20, 1997. All four features and most departments are now on-line.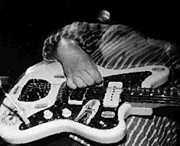 Schoolhouse Rock: In the 1980s, the UW was a Meeting Point for Bands that Would Become Grunge Icons of the '90s.

Fires of Pain: How the UW is Easing Burn Victim's Suffering with Drugs, Hypnosis and even Virtual Reality.

Blurring the Lines: A UW Professor Says It's Time to Recognize the Rights of Biracial and Multiracial Americans.

Body Double: Bioengineers Want to Fool the Body in Accepting Foreign Materials--Making Artificial Kidneys and Other Medical Miracles Possible.
Departments
Letters to the Editor: Comments on the Death of a Street Musician, Male-Centered Reporting, Kidney Research and the Gift of Life, Sordid History of Defense Research.

Our Back Pages: The Crash of '87 , when the North Stands Addition of Husky Stadium Collapsed.

Prelude, the Editor's Column: The Subject Was Rock 'n' Roll
Briefings
President Warns of "Hard Choices Ahead" in Address to University
Accountability, Access, Quality Are Top Issues For UW, Legislature
UW Has More Freshmen Than Any Class Since 1965
UW's Undergraduate Quality Ranks 10th Among Public Universities
Medical School Dean, Wife, Guides Die During Trek in Nepal
On and Off the Ave: Party Pigs, Hollywood Comes to Campus, What a Year, Soundbite
Gift From Pioneer Family Helps Students in Law, Medicine, Engineering
Appointments, Honors, Rankings
Alumni News
Alumnotes: News from the Classes 1930-1995
In Memory: Obituaries of Alumni and Faculty from the Class Years 1923-1981
Brief Profile of Peace Corps Administrator Stan Suyat, '66
Brief Profile of 100-Year-Old UW Alumna Mary Helen Whitlock, '21
Letters to the Editor About the December 1996 issue of Columns