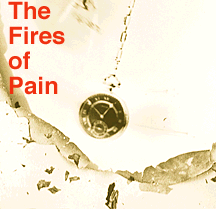 As more becomes known about burn pain, the burn center is expanding its systematic use of morphine-based drugs, tranquilizers, hypnosis and other techniques, even virtual reality (see Mind Over Matter--Virtual Reality and Pain Control). By studying burn patients up to two years after their return home, the researchers have learned that the more pain patients feel in the hospital, the more difficult is their adjustment afterwards.

Some burn centers still refrain from using pain medications out of a concern that their patients might become addicted. But researchers at the UW Burn Center have found that patients rarely have trouble weaning themselves from pain medication. Only one in 3,000 patients becomes addicted after hospitalization. Under-medication is a greater risk, as some patients seek drugs on their own to alleviate their pain.

"I've never seen a patient in 20 years become addicted to narcotics after going home who didn't have a drug problem in the first place," Heimbach explains. "A person who's not already addicted to drugs wants nothing more than to get rid of them--patients don't like feeling spaced out, and they don't like feeling as though they don't have control."

Current pain research includes focusing on children, who comprise a third of the UW Burn Center's patients. Children now receive drugs on a regular schedule, rather than waiting until they say they hurt. Young patients don't mind receiving fentanyl, a fast-acting synthetic morphine, that can now be delivered orally rather than intravenously.

"Despite all our efforts, I think we're still ahead in the clinical area--getting the patients covered with healthy skin and able to go back to school or work--than we are in our efforts to control their pain," Heimbach says. "We still have a long way to go in terms of pain control."

"If it works, we'll use it, provided it's safe and effective," says Edwards. "One thing we do especially well is to combine approaches, using many kinds of specialists. Physicians, nurses, psychologists, physical therapists all pull together and work as a team. A huge amount of research goes on here, and we're clearly ahead of the pack." *

Larry Zalin is media relations coordinator for Harborview Medical Center. He has a master's in English awarded in 1971 from the State University of New York at Binghamton.

Mind Over Matter--Virtual Reality and Pain Control
Return to the Beginning of "Fires of Pain"

Send a letter to the editor at columns@u.washington.edu.