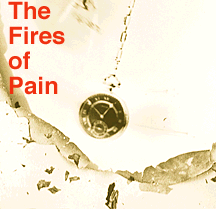 A watch symbolizes the use of hypnosis to treat burn pain. Photo collage by Mary Levin.
---
But the most unorthodox pain relief is delivered not in a pill or via an IV, but by a voice.
Hypnosis had been used in pain treatment for years, Patterson says, but the UW Burn Center was to first to research its use for burn patients. Used in conjunction with medication, hypnosis can decrease pain, especially for patients experiencing high levels of pain. A majority of patients who try hypnosis show some improvement, with 10-20 percent feeling dramatic results and an equal number of patients not responding significantly.
"We begin early in the day, before the patient has been medicated for a dressing change," Patterson explains. "We often suggest that the patient imagine walking down a staircase, with each step suggesting increased comfort. Once the pattern is established, a nurse's touch cues a patient to experience relaxation, rather than pain, during a dressing change."
Assessing a patient for receptivity to hypnosis includes asking if he or she is willing to follow all the psychologist's instructions. "Under normal circumstances, few people will agree to this," Patterson says. "In the burn center, most people will say, `Sure, if it will help me get rid of this pain.' "
For hypnosis to work, patients have to be willing to "check out" during the dressing change, Patterson explains. Those who have to pay attention to everything that's happening to them aren't good candidates. Patients often need to be assured that nothing harmful will happen to them while the procedure is in progress.
Patterson began researching hypnosis during his postdoctoral fellowship at the Oregon Health Sciences Center. His interest increased when he began at the burn center 12 years ago. Patterson consulted Wilbert Fordyce, a co-founder of the UW Pain Service and a man Patterson calls "the grand-daddy of the psychology of pain control." Fordyce suggested that Patterson pursue his interest in hypnosis with burn patients.
Today, pain control in the burn center is a team effort, according to anesthesiologist Edwards. "Knowing that Dave Patterson was here was one of the exciting things about coming to Harborview," he says. "His reputation in acute pain-control techniques was well established. Hypnosis can play an important role--for certain patients it plays a major role. There are some patients who simply don't want to take potent pain relievers."
Edwards also credits Janet Marvin, a registered nurse and one of the founders of the UW Burn Center, for developing the nation's first systematic approach to managing burn pain.
"During the early '80s, the only papers on burn-pain management you could find were written by Janet Marvin," Edwards says. "She instituted burn-pain rounds, where nurses talked about specific problems they were having managing their patients' pain. Her research laid the finest of foundations to build on."
Drug Addiction? It's Not a Threat to Burn Patients
Mind over Matter--Virtual Reality and Pain Control
Send a letter to the editor at columns@u.washington.edu.