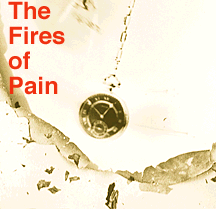 "Of all the things patients remember about their hospital stays, pain is what they remember best and for the longest time," Burn Center Director Heimbach explains. "Pain control has been a particular concern to all of us, since the beginning of the burn center."

Two kinds of pain are associated with burn injuries. Background pain--the pain a patient feels every day and every night--never goes away, but it's not terrible, Heimbach says. On a scale of zero to 10, most patients rate it a three. Procedural pain occurs when a patient's burns are washed or the patient tries to move a hand, walk, exercise or eat. This pain, Heimbach says, is always described as a 10, "the worst pain a patient has ever had or can ever imagine having."

Little was known about burn pain when the UW Burn Center opened in 1974 with 10 beds. Helping patients survive was the first priority, and breakthroughs in clinical burn care introduced at Harborview--including an aggressive approach to wound removal and skin grafting--have reduced mortality rates dramatically.

In 1974, only half of those with burns over 30 percent of the body survived. Now 97 percent of these patients survive. Of the 450 patients treated annually, 90 percent return home within a year of their injuries, able to resume their lives.

Much of the credit can go to Heimbach, a UW surgery professor who came to the burn center in 1977. He led a multi-disciplinary effort to improve survival rates, allow people to return home to lead normal lifestyles, and reduce patients' suffering during their recoveries.

"When we began, little attention had been paid to pain, and pain control was rather haphazard," Heimbach recalls. "Some people still have the silly idea that patients never remember what happened to them in the ICU, so it's not necessary to give them pain medicine. People always care about the pain they experience--if pain medicine causes them to miss some of the events of the day, we think that's a fair trade-off for reducing their suffering."

There is a reason burn pain is so hard to control: Normal dosages of opiates don't work very well. Opiates such as morphine work by binding to special reception points in our nerve cells. These points control the flow of information about pain going to the spinal cord and the brain, says Anesthesiology Professor W. Thomas Edwards, director of Harborview's Pain Relief Service. When opiates bind to those cells, they slow the volume of information about tissue injuries, so patients experience less pain.

But severe burns prompt changes in body chemistry, and those changes make it more difficult to control pain with opiates. Some of the proteins in blood plasma change as the body responses to a large burn, a phenomenon almost unique to burn injuries. Opiates want to bind to this plasma protein, rather than to the usual receptors, making it necessary to give patients larger doses of medications.

As a result of such findings, burn center researchers are finding new ways to use old drugs. Spinal catheters allow medications to go where they can interact directly with opiate receptors in the spinal cord. Another approach, patient-controlled analgesia, allows patients to determine the frequency of doses of pain medication.

Using Hypnosis to Control Pain
Drug Addiction? It's Not a Threat to Burn Patients
Mind over Matter--Virtual Reality and Pain Control

Send a letter to the editor at columns@u.washington.edu.