UWAA Year in Review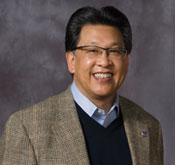 It's clearly an exciting time to work with UW alumni and friends. With so much happening this next year, I want to give you a glimpse inside the UW Alumni Association and reveal what's on my mind heading into 2010. As you can see by the figures below, the UWAA supports the University's mission and brings value to our community by engaging alumni and raising money for student scholarships.
To say it was a challenging year would be an understatement. State cuts to higher education went deeper than many expected, and the UWAA budget was significantly impacted as a result. But it was also a rewarding year on many levels. Our organization and our University came together under tough circumstances and remain committed to UW students, alumni and friends.
This year, the UW Alumni Association was granted Laureate status by the University of Washington for having raised more than $1 million for student scholarships during our 120-year history. This wouldn't have been possible without you. Your efforts and contributions have impacted the lives of many deserving students and their families.
The UWAA—a private, independent, nonprofit organization—works closely with the University to deliver an alumni experience that is both meaningful and memorable. The association is also committed to increasing awareness and understanding of the value of higher education in the state of Washington. Many of our programs and services are open to all alumni, but membership is a special opportunity to enjoy even more great benefits.
Currently, more than 55,000 members are making the UW stronger. I want to personally thank those in our community who are showing their support for the UW Alumni Association and choosing to make a difference through UWAA membership. Here's to another great year.


E.M. "Eddie" Pasatiempo, '77
President, UW Alumni Association