Saying "I Do" at the U
For Amit Ranade, '98, '03, and Jennifer Faubion, '03, '07, there simply was no better setting to begin their new life together than where they first met: their alma mater, the University of Washington.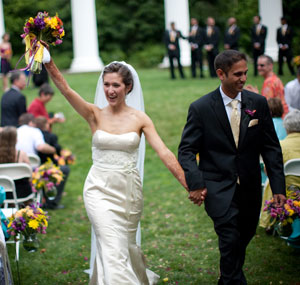 "It was just the perfect place for both of us, I think," Amit said.
Both are deeply tied to UW, having earned their undergraduate and law degrees on the Seattle campus. Both were also student regents while in law school: Amit in 2001-02 and Jennifer five years later.
Since each earned two degrees at UW, it seemed only fitting that they'd also tie the knot twice at the University of Washington's Sylvan Theater on July 11, 2009. A traditional Indian ceremony was held first, followed by an American-style wedding.
Amit and Jennifer incorporated plenty of Husky embellishments into the day. Purple, of course, was part of their color scheme, with the ushers wearing violet ties. A groom's cake bore the Husky logo along with a large "W."
But it was after the bride and groom sealed the deal with a kiss that they truly proved their Husky pride. Kept a secret from all of their guests, the couple strode down the aisle as man and wife while the musicians burst into Bow Down to Washington for the recessional.
The new Mr. and Mrs. Ranade are among as many as 200 happy couples who choose to say "I do" at the U every year. From the upscale University of Washington Club to the verdant UW Botanic Gardens, there are numerous campus venues befitting of matrimonial beginnings.
Program events coordinator Roberta Bustamante helps brides and grooms choose their perfect nuptial niche. Though they need not be as steeped in UW heritage as the Ranades, most locations require that the couple is affiliated with the University as students, staff, faculty or alumni, and each event is approved by the appropriate University authority.
The Sylvan Grove remains one of the most popular spots on campus to wed, Bustamante said, as is Grieg Garden. The Quad, best known for its spectacular spring show of cherry blossoms, provides an abundance of decoration for an April or May bride.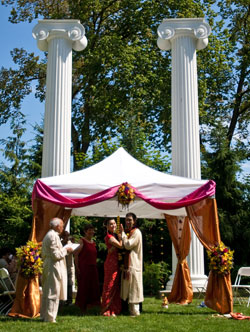 The University of Washington Club combines a convenient location with breathtaking views of Lake Washington. An experienced staff—several have been there for 15 years or longer—garners high praise from clients.
"We have a very strong kitchen team and the food is really great," said General Manger Alex Chordas, noting that her crew has put together Mexican, Chinese, Asian Fusion, Persian, Spanish and Korean menus over the years.
The HUB serves as another popular indoor reception area following an outdoor ceremony on campus, and the Burke Museum also offers an attractive space.
For those looking for a lush location, the Center for Urban Horticulture offers greenscapes in varied sizes and styles. Couples can hold an outdoor ceremony in the formal Soest Garden or the more natural surroundings of Goodfellow Grove or The Knoll. Five nearby indoor spaces may be used for receptions, dressing rooms or other needs. Ample off-street parking, a professional-grade catering kitchen and on-site event staff ease wedding planning woes.
"We're like this undiscovered gem," described Lauren Fortune, rental program supervisor and facilities coordinator at UW Botanic Gardens. "There's an intimacy within the city."
Also close to campus is the 230-acre Washington Park Arboretum, maintained in part by UW Botanic Gardens, which provides several options for outdoor weddings, and the charming Graham Visitors Center.
Beyond the sentimental emotions it evokes and its many striking settings, the University of Washington is also a great value for the pocketbooks of young couples. Some outdoor campus locales are just a couple hundred dollars to reserve—an outstanding price in the wedding world. Above all, it's tradition that seems to be the ultimate draw for brides and grooms.

"I would say that from the very beginning, meaning more than 100 years ago, I'm almost certain that the campus was a venue for weddings," Gus Kravas, chair of the Use of University Facilities Committee, said. "It would not surprise me if there were weddings on the Rainier vista back at the turn of the last century."
Photos by John + Joseph Photography Inc.