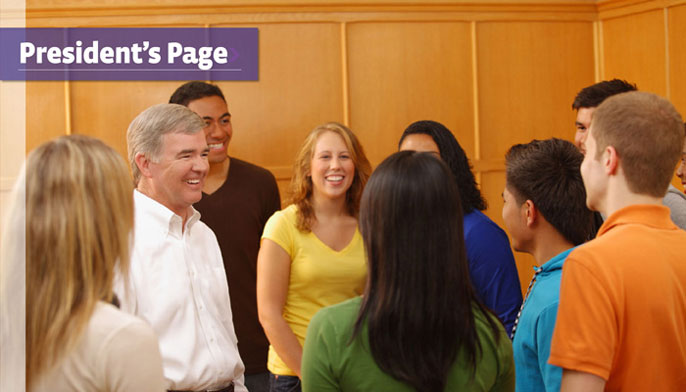 Photo by Dennis Wise
State Support Slips Away, But Our Commitment to the State Doesn't
Most businesses and households today continue to struggle with the financial impacts of the Great Recession of 2009. The financial crisis has altered our perceptions of how businesses should be run and how to pay for those things we care about most. This is every bit as true at the University of Washington as at Boeing, Microsoft or the neighborhood dry cleaners.
The recession has sharply amplified a persistent and steady decline in state funding for public universities in Washington. The 2009 state Legislature cut the University of Washington's budget by 26 percent, one of the largest cuts to a university in the entire nation. This reduction takes the UW's state funding down to a level we have not seen since 1999. To manage this cut, we have had to make many hard decisions, among them to eliminate 850 mostly administrative jobs, close branch libraries and writing centers, freeze salaries, dramatically reduce faculty hiring and, worst of all, serve fewer students than we would like.
The impacts of the budget reduction were offset partly by a 14 percent increase in tuition, continuing a 20-year trend of relying more and more on student tuition to fund the UW while the state has shrunk its share of funding. For the first time in our history, total revenue from tuition is larger than revenue from state tax dollars, a trend that is very likely to continue.
The pressures on the state budget have once again led to discussions about "privatizing" the UW. Such conversations are both distracting and irrelevant. Our University's mission is a public mission, regardless of our sources of funding. We do not need to change what the UW is, what it does, or why it does it. We will continue to serve the higher-education needs of Washington's citizens through access to one of the best public research universities in the world.
What needs to change is the funding and operating model supporting that mission. The University needs to define a new way to accomplish its core educational mission that will not only sustain us for the current biennium but, more importantly, will enable us to thrive over the coming decades. How we meet the challenge of the next two years will help define what we can become over the next 20. While we will continue to make a forceful and passionate case for additional state investment in the UW in Olympia, we also have to be realistic about the state's short- and long-term fiscal situation and what the governor and Legislature will provide to this institution. We lost more than a decade of state budget growth with the cuts of the 2009 session, and it may take at least that long simply to regain the ground we lost.
Therefore, in order to fulfill our mission as one of the world's great public universities, we have developed three strategic approaches to respond to this dramatic loss of state investment:
1. Use our existing resources as efficiently as possible: Research shows that Washington's public universities are already among the most efficient in the nation in producing bachelor's degree graduates despite being among the most poorly funded. The UW awards more bachelor's degrees per student than research universities in any other state, and we are second in the nation in degree productivity at the graduate level. The six-year graduation rate for freshmen in the state of Washington ranks third in the nation and has improved by 9 percent in the last decade. The UW's six-year graduation rate now stands at 81 percent, up from 71 percent six years ago. Bottom line: The state is getting extraordinary efficiency in the investment of its dollars in Washington's public universities.
The UW continues to innovate and seek new economies and efficiencies to stretch our dollars even further. Among innovations in the instructional program are three-year bachelor's degree opportunities for select students; greater use of technology in hybrid models combining in-class and computer-based instruction; integrated five-year bachelor's-master's programs; and growing our online degree offerings. In business operations, millions of dollars have been saved using eProcurement and eTravel technologies, MyFinancialDesktop for budgeting, and expansive use of online student financial services. We want our students to have not just a world-class education, but a world-class value as well.
2. Manage undergraduate resident tuition: Now that the UW receives more of its core instructional budget support from students and their families than from the state, we need to be in a better position to manage all of our tuition revenues. Since 2003, we have been responsible for managing tuition for all graduate and professional programs, as well as undergraduate nonresident tuition. These tuition rates continue to remain at or below the average of our peer institutions. While UW undergraduate tuition is still the lowest among all of its "global challenge" state peers, future growth can be benchmarked in a fashion similar to those for graduate and professional programs. Further, the UW is deeply committed to increasing financial aid to continue to honor the Husky Promise program for low- and lower-middle-income families. Bottom line: The UW needs to have greater control over its revenue.
3. Greater management and business process flexibility: There are numerous examples of millions of dollars that could be saved in operating our University if we had more flexibility over business processes and had to spend less money complying with a number of regulations in the way we operate basic management systems and processes. These include public works procurement, debt financing costs, purchasing authority, and relief from paying for state systems that we do not use. We want to use all of our resources as wisely and effectively as possible. Bottom line: The UW needs to be granted greater flexibility in costly and time-consuming regulations and processes.
The University of Washington is truly at a turning point. We must find a way to replace critical state dollars that are gone and no longer available to support our instructional activities. A new financial model and new, more entrepreneurial approaches to doing business are called for. Greater management flexibility is required to fulfill the University's commitment to serving the citizens of Washington. If we are able to make these changes, the UW can continue to serve the state in the exemplary manner we all expect for decades to come.


Mark A. Emmert, '75, President