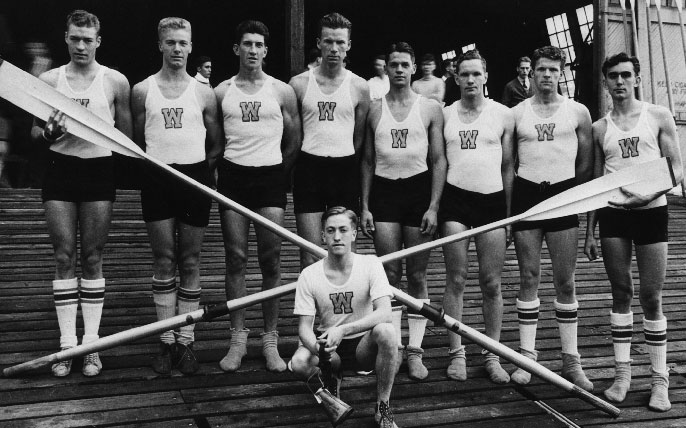 Photo courtesy UW Athletic Communications
H. Roger Morris, far right, helped the 1936 crew win an Olympic gold medal.
H. Roger Morris, 1915-2009
A Champion on the Water
H. Roger Morris, '38, the last surviving member of the UW's legendary 1936 men's crew, died July 22 at his home in Maple Valley. He was 94.
Morris and his eight Husky crew teammates earned worldwide fame during the 1936 Berlin Olympic Games when they overtook the German and Italian teams to win the gold.
The UW had started poorly in the 2,000-meter Olympic race and found itself in last place at the halfway mark, but the crew rallied to overtake the German team and edge the Italian boat just 10 strokes from the finish line. German Chancellor Adolf Hitler, who was in attendance, was not happy.
Morris grew up in Fremont, earned a B.S. in engineering from the UW and enjoyed a successful career as a mechanical engineer. He leaves two daughters, Joan Mullen and Susan Hanshaw; a son, James Morris; and seven grandchildren and eight great-grandchildren.