Wilbert E. Fordyce, 1923-2009
Putting Pain it its Place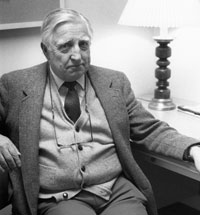 Photo courtesy UW Medicine/Health Sciences News and Community Relations
Wilbert "Bill" E. Fordyce, '48, '51, '53, a University of Washington faculty member who did pioneering work on the psychology of chronic pain, died Oct. 15. He was 86.
A clinical psychologist by training, Fordyce joined the UW School of Medicine faculty in 1959 and worked with the late anesthesiologist John Bonica to create a multidisciplinary pain center at the UW. That center—one of the first of its kind in the nation—became a model for research on, and clinical care for, pain.
Fordyce developed approaches to dealing with chronic pain that were unheard-of at the time. He encouraged chronic-pain patients to become active again and to cut back on the amount of pain medication used. Today, pain clinics throughout the United States use Fordyce's methods.
He was a founding member of the International Association for the Study of Pain and the American Pain Society, which named an annual research award in his honor.
He is survived by his wife, Eleanor, and two sons, David and Richard.
Columns Digital Magazine
The UW Alumni Association is proud to announce that Columns is now available as an interactive digital magazine. It's presented using the Issuu viewer so you can browse through it just as you would the printed version. You can zoom in, print pages or share articles by e-mail.
Just click the "Digital magazine" link next to the cover image to start browsing.
Need a little more help? Gets some tips for using the Issuu viewer.