John F. Behnke, 1926-2009
Sowing the Seeds of Support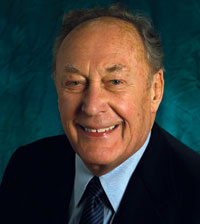 Photo by Mary Levin
John F. Behnke, '50, who helped build Fisher Communications into a major Seattle media operation and was a passionate advocate for the University of Washington, died Oct. 9. He was 82.
Behnke, a Wenatchee native, spent 36 years at Fisher Broadcasting Inc. He started as an account executive and worked his way up to become president, CEO and chairman of the board.
A former president of the UW Alumni Association, he received the UWAA's Distinguished Service Award in 2005 for 30 years of service to the University, including chairing the first UWAA Alumni Fund Drive in the 1960s.
He was also an ardent supporter of the Washington Park Arboretum Foundation. Contributions in Behnke's honor can be sent to the UW Botanic Gardens/Washington Park Arboretum c/o UW Foundation, Box 359504, Seattle, WA 98195-9504.