A GEM OF A WRITER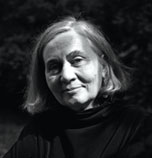 Congratulations to Sandra Beasley for a superb piece on Marilynne Robinson. It just made my day!
Marilynne Robinson is a gem.
Robert W. Uphaus, '66, '69
Professor Emeritus of English
Michigan State University
East Lansing, Mich.
HONORING GIANTS
Please pass along my congratulations to Jeff Corwin for the stunning photograph of Wayne Quinton [June 2009 Columns], and to the great man himself, of course. I have a special interest in the Alumnus Summa Laude Dignatus Award, since my father, Trevor Kincaid [class of 1900], was the first recipient in 1938. These honorees have all done remarkable things.
Marjorie Kincaid Illman, '41
Nordland
GORDON WAS FIRST
I just received my September 2009 issue of Columns. As usual, a great issue. Just one note: As an old A&A grad and a retired Navy flier, I noted the fact that George "Pinky" Nelson was recently inducted as the first UW grad into NASA's Astronaut Hall of Fame. I found that interesting because Dick Gordon, '51, a veteran of Gemini and Apollo missions, was inducted into the Hall of Fame in 1993.
Additionally, he won the Bendix Trophy in 1961 for establishing a new speed record (869.74 mph) and transcontinental speed record (2 hours, 47 minutes). I've always been fascinated by Dick Gordon as he was a UW grad and flew for the Navy before getting selected for NASA. Thought you'd like to know that.
It's also good to see that my fellow A&A '77 grad just flew on the [space] shuttle—Greg Johnson—also an old Navy aviator.
Keep flying Huskies!
Trip Wiggins, '77
Fredericksburg, Va.
COURAGE DEFINED
The September 2009 article on UW Medal of Honor heroes mentioned John "Bud" Hawk as one of the honorees.
I first knew him in the Great Depression era of the 1930s, on Manitou Beach on Bainbridge Island. He and his family lived close to us. I remember him as just another scrawny Depression kid. He used to borrow our skiff to catch fish for his family; as I remember, he was usually successful.
Later, I asked him how in the hell did he ever find the courage to do what he did. His reply was that it was not courage but merely acting on training and that afterward, he had a severe session of the shakes. If that wasn't courage, I don't know what was! He also remarked that anyone who had a skiff in the '30s was a king.
He's a great guy and deserves the accolades.
Martin Paup, '52
Seattle