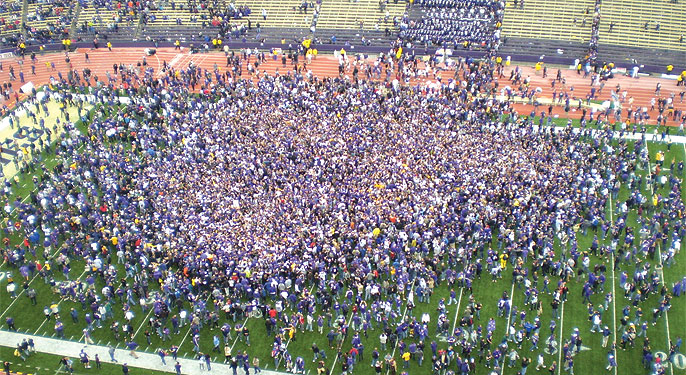 Husky Sports Roundup
Under new coach Steve Sarkisian, the Husky football team started the 2009 season strong, ending a 15-game losing streak with a victory over Idaho then catching national attention by upsetting then-No. 3 USC. The Huskies were 3-7 at press time.
Washington's men's basketball team began the year ranked No. 13 in the ESPN/USA Today poll. Fresh off their first outright league title since 1953, the Huskies will rely on senior Quincy Pondexter, sophomore Isaiah Thomas, freshman Abdul Gaddy and reigning Pac-10 Coach of the Year Lorenzo Romar.
Kendra Schaaf finished second at the Pac-10 Championships on Oct. 30 to lead the No. 1-ranked and defending national champion women's cross country team to its second straight league title and 10th consecutive win overall. The 13th-ranked men's team placed fourth.
The UW women's volleyball team is setting its sights on the program's eighth straight trip to the NCAA tournament. The team has reached the NCAA quarterfinals five times in six seasons. They started the 2009 season ranked No. 4 and were 20-3 at press time.